Feed Mill Seminar to Focus on New Industry Technology
US - The 2012 Feed Mill Management Seminar is a valuable, cost-effective source for keeping up with the latest information and technology in the industry. Sponsored by US Poultry & Egg Association, the seminar will be held 21-22 March, at the Doubletree Hotel in Nashville, Tennessee.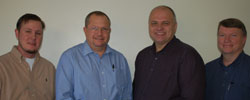 The Feed Mill Management Seminar Committee included (left to right): Marc Shockley, Committee Chairman, Perdue Farms; Brian Franklin, Wayne Farms; Dr William Dozier, Auburn University; Dr Casey Ritz, University of Georgia; and Dr Carla Price, Sanderson Farms (not pictured)
"Remaining current with changing government feed mill regulations and new developments in equipment and technology is critical to ensuring food safety, feed quality, and managing costs in both poultry and egg production. The Feed Mill Management Seminar program will engage managers, so they are provided with the most up-to-date information available," said program committee chairman Marc Shockley, Perdue Farms.

The seminar was developed by an industry committee of experienced and knowledgeable industry mill managers, university faculty, and a nutritionist. Program topics include: Economics of Feed Milling... What Is the Industry Facing?; Pellet Quality; An Effective Biosecurity/HACCP Plan for Feed Mills; Boiler Efficiency and Safety; Fleet Safety - Cameras and GPS; Dust Control Technology - New and Retrofit; and The Future of Tractor Engine Design. The program will also include a regulatory update, review new feed mill technology, and feature a safety motivational speaker.

To register for the Feed Mill Management Seminar, click here.