ISA Chooses Smartpro for New (Grand) Parentstock Hatchery
NETHERLANDS - Institut de Sélection Animale (ISA) has confirmed that Pas Reform will equip its brand new (Grand) Parent Stock hatchery in the Netherlands with the latest generation SmartPro incubation technologies, to produce Grandparent (GPS) and Parentstock (PS) for the egg industry worldwide.
ISA signed an Agreement with Pas Reform and other partners on 12 January, at its headquarters in Boxmeer, the Netherlands. The state of the art new hatchery will be constructed on the site of ISA's current GPS and PS hatcheries, to include 50 SmartSetPro setters and 18 SmartHatchPro hatchers.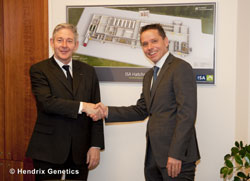 (L-R) Thijs Hendrix, President of Hendrix Genetics and Bouke Hamminga, Director International Sales & Business Development of Pas Reform Hatchery Technologies
With a capacity of c.5 million Parent Stock per year, the new hatchery not only reflects the growth that ISA has experienced over the last couple of years, but also a commitment to serving the global egg industry in the most sustainable manner possible.

"The new hatchery will mark the success we have enjoyed in recent years, yet at the same time, fully supports the ambitions we have to expand our business in the face of a number of global welfare challenges," said Servé Hermans, ISA's Managing Director.

The 4,080 m2 parent stock hatchery will be built as of March 2012 and showcases a number of state of the art technologies, to produce day-old chicks in a highly efficient, bio-secure and environmentally friendly manner.

SmartPro incubation technologies in the new hatchery will incorporate Adaptive Metabolic Feedback (AMF), for simultaneous humidity and CO2 control, and the ability to use Circadian Incubation for more robust day old chicks.

ISA selected climate control solutions from Hollander Techniek, Pas Reform's strategic partner for climate control, energy saving and heat recovery systems in Western Europe. The system's design reflects the very high-level biosecurity requirements of a pedigree hatchery.

Energy-saving and environmental concerns were an important element of ISA's brief. "The hatchery will be equipped with solar water heaters and water cooling systems for heat recovery. Fresh incoming air will be fully conditioned before entering the facilities, to avoid cross-contamination at all costs," said Ron Jöerissen, ISA's Production Director.

Erik Hollander, CEO of Hollander Techniek BV, comments, "The strategic partnership that we embarked upon with Pas Reform Hatchery Technologies has resulted in this agreement. We are very excited to be building this project with our partner in the Netherlands."

Bouke Hamminga, Director of International Sales & Business Development of Pas Reform Hatchery Technologies, concludes: "This is a future-focused project, with absolute clarity in terms of human and animal welfare, biosecurity and environmental responsibility. We are delighted to be a part of it - and looking forward working with ISA and all our partners, to realize ISA's aims for the future."