New Sales Manager for UK Market at Farmer Automatic
UK - Since the end of the last year Kevin Howse is the new Sales Manager of Farmer Automatic and drives the business for the UK market. Farmer Automatic is a family oriented German company built up 50 years ago supplying farming solutions specially designed for poultry.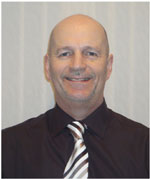 Kevin Howse
In order to provide the UK customers the best possible services, Kevin Howse who has been involved in this industry for about 20 years, is now in charge of the company's operations in the UK poultry equipment industry. He started working at the Noble foods group in 1993 where he was engaged in different sectors such as Daylay foods and Stonegate ltd. During his time there he was involved in major projects on cage and free range production and therefore got to know all fields from purchasing to customer support. He also held positions with Big Dutchman for five years and Vencomatic for three years. "We are happy to have Kevin on board. As a real expert in this field he will drive forward our business in the UK," says the managing director of Farmer Automatic, Christian Dyckerhoff.

One of Kevin Howse's aims is to create a successful equipment supplier focusing on satisfied customers rather than just the number of customers. "With Farmer Automatic manufacturing 95 percent of all its products in house in Laer in Germany it is offering the UK poultry market something unique: best quality made in Germany", says Kevin Howse about his new challenge.

The installation of a new sales manager in the UK was one of the first measures taken by Dyckerhoff as the new managing director in charge of the company's global operations. Dyckerhoff, 43, has acquired a wealth of experience especially in the field of sales and marketing over the course of his career.