Pfizer Expands UK, Ireland Poultry Team
UK & IRELAND - Tony Grainger has been appointed manager for the Pfizer range of in-feed products for the poultry industry in the UK and Ireland.
He has been with Pfizer for the past seven years, most recently as part of its ruminant team working with veterinary practitioners, farmers and academic institutions in the north east of England.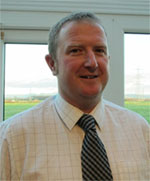 Tony Grainger
Pfizer entered the poultry nutrition sector through acquisition of Alpharma as part of its take-over of King Pharmaceuticals and in his new role Mr Grainger will be selling its range of medicated feed additives and probiotics.

He will be part of the Pfizer team serving the UK and Irish industry alongside poultry manager James Porritt and technical manager Stuart Andrews.

Mr Grainger, who lives near Northallerton in North Yorkshire and has a lifelong interest in poultry, gained an honours degree in agriculture from Newcastle University in 1994. He worked in the dairy industry initially, then in the human pharmaceutical industry, before moving into animal health.

Pfizer products for the poultry industry now include a range of in-feed supplements — coccidiostats, metabolic and immune enhancing therapies -- as well as antibiotics, vaccines, in ovo vaccination technology and Proflok ELISA testing kits.