US Soy Promoted for Poultry Diets in South-East Asia
SOUTH–EAST ASIA - The US Soybean Export Council (USSEC) is collaborating with Novus International on animal science and nutrition activities in Southeast Asia focusing on improving diets for poultry.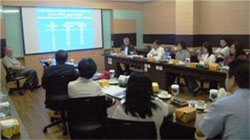 Dr Leeson presents data to representatives from CP Indonesia.
More than 40 nutritionists and farm managers from the feed industry travelled to Indonesia to participate in a recent seminar.

Steve Leeson, PhD, from the University of Guelph, Ontario, delivered presentations focused on layer and broiler nutrition. He also emphasized the fact that soybean meal will remain a major ingredient in poultry nutrition.

Additionally, Dr Leeson discussed the nutritional management of broilers and layers in hot and humid climates, metabolizable energy, amino acid requirements and stocking density for broilers and layers.

Salim Bootwalla, Ph.D., an animal nutrition technical director, also presented data on the nutrient values of soybean meal from different origins. Bootwalla stressed the benefits of using US soybean meal in poultry diets based on amino acid content.