First Grimaud Grand Parent STAR 53 Pekin Duck Flock
CHINA - On March 2012, world n°1 in duck meat producer Shandong New Hope Liuhe Group received its first flock of Grand Parent Star 53 Pekin ducks from Grimaud Freres Selection in France. The delivery went well for several thousand GP ducklings of lines A, B, C and D, placed directly in quarantine for 30 days right after their arrival in China.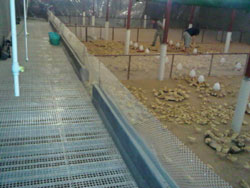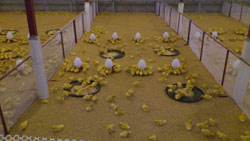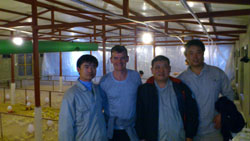 From left to right: Mr Liu Zhen Lin (General Manager GP farms) . Olivier Rochard (General Manager GFS), Mr Lv Fu Jiang (farm manager of GP farm N°1), Zhang Chuan Min (Technical manager GP farm N °1).
After several years of exchange and conclusive trials on Star 53 Pekin ducks, either on Parent Stocks or commercials Stocks ducks, the first significant step is achieved between Liuhe and Grimaud companies with this GP duck placement. The ducklings were installed in a brand new GP farm featuring 6 buildings totally equipped with state of the art equipments: drinkable water treatment, pad cooling systems or waste water treatment. The farming area is totally isolated and biosecurity standards are maximum to ensure the best sanitary status of future PS STAR ducklings produced from this farm.

Grimaud Freres Selection experts were present at the time of delivery in China (see picture below). Different Grimaud experts will also accompany New Hope Liuhe's technical managers all along the development and production periods of this STAR 53 GP flock, with regular visits or through technical seminars on production site.

Based on STAR 53 duck performance, this placement is the first step of a close collaboration between Grimaud Freres Selection and world biggest duck producer Shandong New Hope Liuhe Group.