Glo Agrilamp to Change Name to Agrilamp
GLOBAL - Glo Agrilamp has changed its name to 'Agrilamp', appointed new distributors in Ireland and China and increased production in the UK.
Glo Agrilamp Changes its Name to 'Agrilamp'
"Over the years, farmers themselves has shortened the name synonymous with quality LED lighting solutions made specifically for the poultry industry, from Glo Agrilamp to simply Agrilamp. With 180,000 internet hits each month to Agrilamp it seemed the obvious thing to do", said John Matcham Agriculture Sales Director.

"Just type in www.agrilamp.com and you will find us anywhere in the world," he added – or email [email protected].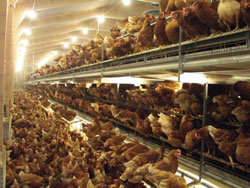 Agrilamp Increases Global Network: Two New Master Distributors Appointed
Irish Dairy Services (IDS) in Portlaoise, Co. Laois, Ireland are a successful well established poultry, pig and dairy solutions provider covering the whole of Ireland. Their first customer installed Agrilamp 9w and Agrilamp Tulip 9w into the latest Big Dutchman project. IDS is already the distributor for Big Dutchman, SKOV, Steinen and BD Agro so adding Agrilamp to the stable will give them a full house when it comes to energy efficient lighting.

Contact details for IDS: IDS Ireland Ltd., Mountrath Rd.,Portlaoise, Co. Laois, Ireland. Tel: 057-8666200.Email: [email protected]

In China Asia–Phase has installed its first large–scale broiler barn for a major global producer.

Hamish Jacobs, representing Asia-Phase, said: "The first install went really well and the customer was so impressed with the light distribution and dimming from Agrilamp. Previously, they had to remove every other lamp for dimming which caused distribution issues, now they have perfect lighting."

Contact details for Asia-Phase: Hamish Jacobs China +8613918950865.
Agrilamp Increases UK Production of Agrilamp Broiler Lamp
Manish Neupane, production coordinator for Agrilamp, is pleased that key Agrilamp products were being produced in the UK, saying: "This is great for the poultry meat producers who have to provide 20lux of lighting for animal welfare standards, the 30–watt broiler lamp is completely serviceable and means that high quality poultry lighting is no longer a throw–away investment and should last as long as the building."