Agreement Signed for Turkey Complex
RUSSIA - An agreement to build an integrated turkey production complex was signed in Tambov last week between Cherkizovo Group and Grupo Fuertes, a large agro-industrial company and the leading producer of turkey in Spain.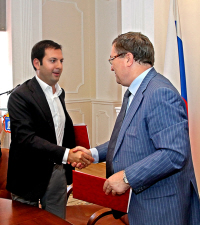 More than €100 million will be invested in the development of the project.

As part of the agreement, a turkey meat production joint venture between Cherkizovo and Grupo Fuertes has been set up called Tambov Turkey LLC. Hannes Snellman acted as a legal advisor to Cherkizovo Group.

Oleg Betin, Head of Administration of the Tambov region, Igor Babaev, Chairman of Cherkizovo Group, Sergey Mikhailov, CEO of Cherkizovo Group, Tomás Fuertes Fernández, President of Grupo Fuertes, and Jose Fuertes Fernández, CEO of Grupo Fuertes, took part in the signing ceremony.

The participants also visited the land plot in the Pervomaiskiy district, where the complex will be built.

The new turkey production complex will be developed on a 5000 ha site in the Tambov region of Russia.

The annual capacity is expected to be 25–30,000 tonnes of turkey meat in sellable weight, which may increase to 50,000 tonnes in sellable weight in the medium term. Once achieved, this would make Cherkizovo the market leader in the fast growing and highly profitable Russian turkey meat market.

The total planned investment is RUR 4.5 billion (including VAT), which is equivalent to over EUR 100 million at current exchange rates. The project will be financed equally by Cherkizovo and Grupo Fuertes from existing funds and through bank loans.

The Tambov regional administration has agreed to provide the necessary infrastructure for the construction of the complex.

Head of Administration of the Tambov region, Oleg Betin said: "The entrance of such big Russian and international investors as Cherkizovo and Grupo Fuertes in the Tambov region once again proves the attractiveness and high agrarian potential of our region. Under the region's legislation, the investment activities will benefit from governmental support and we plan to take a versatile approach when providing support for this project."

CEO of Cherkizovo Group, Sergey Mikhailov said: "Today we are launching a unique project. Firstly, the substantial experience of our partners will enable us to build a production site of European standard quality and efficiency; secondly, Cherkizovo has an effective distribution network which will enable rapid and efficient delivery of new products to Russian markets.

"Support, provided by the regional administration will be fundamental to the successful realisation of this project. I would like to personally thank the Administration of the Tambov region and governor Oleg Betin for their support."

President of Grupo Fuertes, Tomás Fuertes said: "We are starting this important project by investing in the promising and rapidly developing Russian market. The project will be carried out in collaboration with Cherkizovo Group — a partner we trust and with whom we are ready to share our experience and modern technology in turkey production.

"We believe that Cherkizovo, with support of the Tambov regional Administration, will be able to build an effective production cluster and in three years, Russian consumers will be able to enjoy high quality turkey meat."