Chick Quality and Hatchability on the Agenda at Seminar in Belarus
BELARUS - Aviagen and their Grandparent (GP) customer PPR Broiler recently held their third annual joint technical seminar for Ross Parent Stock (PS) customers in Belarus.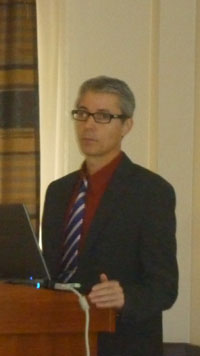 Leonardo Linares, Aviagen's Nutrition Specialist, speaking at the event.
The seminar, which took place near Minsk, saw 80 guests attend from PPR Broiler, PS operations, the Belarus Ministry of Agriculture and the Poultry Union. The guests heard presentations on topics including nutrition and hatchability, PS and broiler performance and chick quality.

The seminar was opened by the Director General of Minoblptitceprom Nikolay Sherstnev who thanked Aviagen for the high quality of Ross 308 and technical help to PPR Broiler.

Yury Fesin, Director of PPR Broiler, said: "It is significant that this seminar has now been running for three years in a row, as it shows a continuation of the development of the close working relationship between Aviagen and PPR Broiler."

Deputy Agriculture Minister of Belarus, Vasily Kazakevich, addressed the seminar and discussed possibilities for the future development of the poultry industry in Belarus. Prospects for a further expansion of the GP programme are exciting to match the mid-term plans of the country to reach 600,000 t of annual broiler meat production.

Speakers at the event also included Leonardo Linares, Aviagen's Nutrition Specialist, who talked about nutrition for birds to improve fertility and Akos Klaus, Company Veterinarian, who discussed the role of Staphylococcus in leg problems. Neil Clark, Regional Technical Service Manager, compared PS and Broiler performance throughout the Central and Eastern European region. Other topics covered were lighting for broilers, egg disinfection and PS management before production.

Nagezhda Semchenkova, Deputy Director of PF Vitebskaya, said: "We were particularly impressed by the quality of Aviagen's presentations. They covered very important issues with regards to working with Ross birds. Of particular interest was Leonard Linares' advice on nutrition and hatchability."

Victor Mishkevich, Head Vet, PF Druzhba, said: "The seminar was incredibly well organised and the presentations covered a lot of useful and practical information, including many current management issues."