CME: Annual US Broiler Shipments to Mexico Likely to Decline
US - Mexico could imposed significant duties on US chicken leg quarters by August and this may have both short term and long term repercussions for US red meat and poultry prices, write Steve Meyer and Len Steiner.
The issue was highlighted in recent days both because of an article from Dr Hayes at Iowa State, pointing to the impact the decision could have on Mexican consumers, and the upcoming meetings in Mexico City regarding this issue. According to a preliminary decision by Mexican authorities in March, Mexico could impose tariffs of between 62.9 per cent - 129.77 per cent on US leg quarters, depending on the supplier and implied margin calculations. As for the volume impact, Dr Hayes notes in his article that US companies shipped about 250,000 MT of leg quarters to Mexico in 2011. This was in addition to 328,000 MT of other poultry products.

The study does not reference where this data came from but we suspect it is from Mexican import data. The USDA/FAS data shows exports of frozen US leg quarters to Mexico were 153,263 MT in 2011 with an additional 249,031 MT of fresh/ chilled chicken cuts. It is likely that a portion of the chilled volume was leg quarters but we could not verify this based on available USDA numbers. Using the 250,000 MT figure from Dr Hayes study, this would imply that the prohibitive tariffs on US chicken leg quarters in Mexico could reduce overall broiler meat shipments to this market by 55 per cent, initially.

Some of the lost leg quarter business will be replaced by shipping whole birds but even with this increase, it is possible that annual US broiler shipments to Mexico could decline by as much as 40 per cent from 2011 levels. And as Mexican producers start increasing production in response to higher prices in the domestic market, US broiler shipments to Mexico may eventually be cut in half.

The chart below puts these export discussions into perspective. US broiler exports to Mexico have been expanding in recent years, especially after Russia significantly curtailed the quota allocations for US poultry. So we can compare exports to US domestic production, we are presenting the export numbers on a carcass weight basis.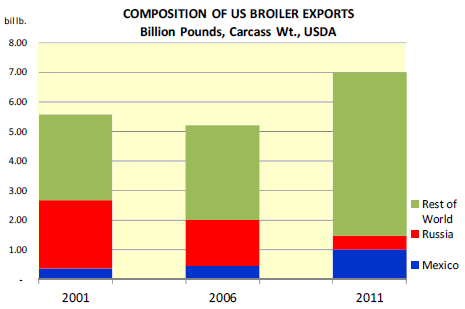 In 2001, US producers exported 5.555 billion pounds of broiler meat, with Russia accounting for 41 per cent of the total (2.3 billion pounds). By 2006, broiler shipments to Russia were down sharply, accounting for just 30 per cent of the 5.2 billion pounds exported. Last year, US broiler exports were 6.990 billion pounds, with just 475 million pounds (7 per cent) exported to Russia. US broiler exports to Mexico rose from around 456 million pounds in 2006 to about 1 billion pounds in 2011. Should US exports to Mexico return to 2006 levels, it would represent about 1 per cent of estimated US broiler production for 2013. More importantly, this extra supply will come in the form of one singular product, leg quarters. Export markets take about 45 per cent of all leg quarters produced in the US.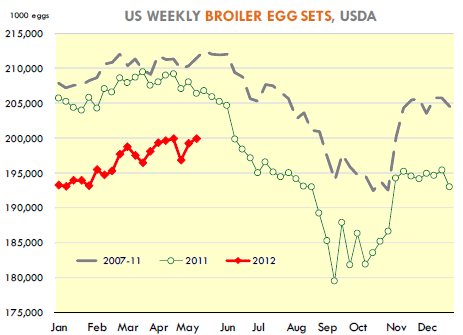 The long term ramifications of anti-dumping duties are significant. Other markets have sought, and in the case of South Africa implemented, anti-dumping tariffs on US leg quarters. The Mexican decision could set a precedent and other countries may impose similar tariffs unless challenged at WTO. In the short term, this could lead to lower prices for leg quarters in both domestic and export markets. Longer term, it could stunt the growth of the US broiler industry by further compressing producer margins.