CME: Corn Planting Near Record-High Condition
US - If early planting and excellent early crop condition lead to a high yield, this corn crop should be a doozy. The trouble is that neither of those conditions are sufficient to drive a large national yield come fall — but we would rather have them both in play at this stage and they are — in spades, write Steve Meyer and Len Steiner.
USDA's Crop Progress report, released yesterday afternoon indicates that corn planting is virtually done and that the corn that has been planted had emerged at a far above-normal pace and is in near record-high condition at this point. 96 per cent of intended corn acres had been planted as of Sunday. That is a record level for week 20 of the calendar year and will probably represent USDA's last estimate for this year. It compares to 79 per cent as of this date last year and a 5-year average of 81 per cent. This year's figure ties the record for this date set in 2000 and exceed the 93 per cent level of 2010, shown as our "fastest year" by virtue of that year's rapid early planting.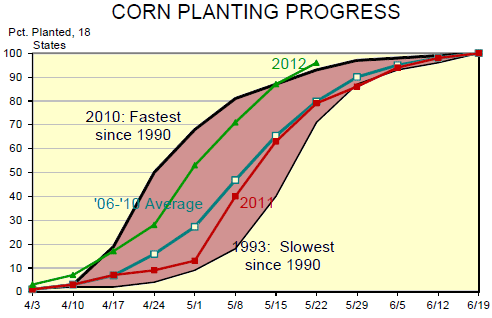 76 per cent of corn acres had emerged as of Sunday. That compares to 45 per cent last year and a 5-year average of 48 per cent. That is second highest percent emerged as of week 20 on record, second only to 2000 when 84 per cent of corn had emerged by this same week.

An interesting note — 2000 was a year of record-high planting and emergence by this date and the yield that year was 136.9 bushels/acre, just slightly above the 136.5 yield of the 1960- 2010 trend and 136.2 yield of the 1996-2010 "biotech" trend. The yield in our "fastest year" of 2010 was 152.8 bushels/acre — 2.6 bushels below the 1960-2010 trend value and 6.2 bushels below the 1996-2010 "biotech" trend. Early planting is no guarantor of high yields but it does virtually eliminate frost risk come fall.

USDA's first estimate of crop condition for this year shows 77 per cent of acres in Good or Excellent condition. That is the thirdhighest such rating in our data and compares to a 5-year average of 65.8 per cent. There was no condition rating published for this date last year. Only 3 per cent of corn acres were rated as poor or very poor.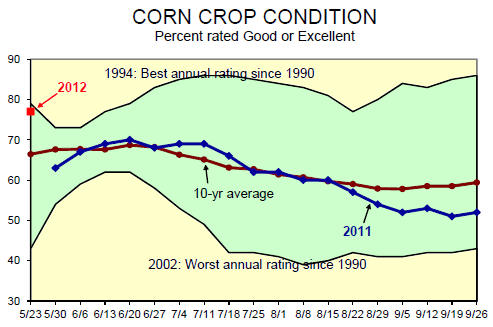 Soybean planting accelerated last week as more farmers turned their complete attention to beans. 30 per cent of the nation's soybean acres were planted in just one week to push the total to 76 per cent — a record for week 20 and far above last year's 41 per cent and the 5- year average of 42 per cent. With continued fair weather, soybean planting should be finished this week or next. 35 per cent of soybeans had emerged as of Sunday. That compares to only 12 per cent last year and a 5-year average of 13 per cent but is FAR down the rankings of years past. In fact, it ranks no better than the 8th highest since 1990! No crop condition ratings have yet been published for soybeans.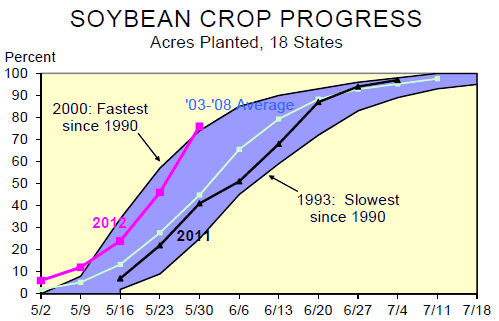 Which brings us to winter wheat — of particular note given the higher level of wheat feeding in 2011 and expected higher level this year. The share of acres rated as in good or excellent condition was estimated to be 58 per cent, down 2 per cent from last week and 6 per cent lower than just 4 weeks ago. Concerns are mounting about the crop, especially in Kansas the nation's top winter wheat state. Planalytics' Kansas yield forecasts have ranged from 40.4 to 44.5 bushel/acre since late March (vs. USDA's 43 bu/acre) but they now expect the "yield potential will go down due to lack of moisture."