CME: Total Meat, Poultry Output Down from Last Year
US - A key factor in meat and poultry output so far in 2012 has been the size of the animals coming to slaughter, write Steve Meyer and Len Steiner.
Total meat and poultry output last week amounted to 1.701 billion pounds, down 1.4 per cent from last week and down 3.3 per cent from last year See the top line of each week's Production and Price Summary table for the measure of total animal protein output. YTD total meat and poultry output — using weekly data — amounted to 34.523 billion pounds, 1.9 per cent lower than one year ago at this time. The production numbers would be significantly lower had average weights not been higher for all four major species so far this year.

Steer and heifer weights have made the largest jump in 2012. The chart for average steer weights appears below but the heifer chart looks much the same. Weekly average steer carcass weights have been as much as 24 pounds higher than last year and have averaged 15.47 pounds or 1.9 per cent more thus far in 2012. Heifer weights have increased even more dramatically, growing an average of 17.8 pounds or 2.3 per cent so far in 2012 with weights the week of 12 March exceeding the 2011 level by 30 pounds! YTD beef output is down 3 per cent from last year but that number would be –5.2 per cent had steer and heifer weights just been equal to last year.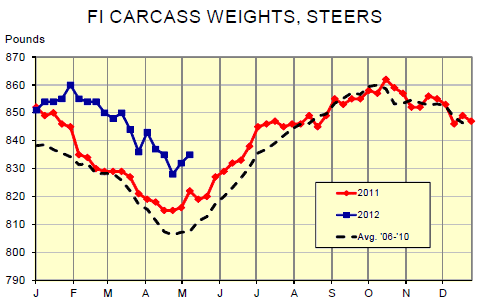 Why the increases — especially with disappointing fed cattle prices since early March? Part of it was delayed marketings due to poor packer margins and slowed throughput by US packers. There isn't much enthusiasm for slaughtering cattle when margins are $100-plus in the red and any slowdown leaves cattle on feed longer and causes them to be heavier at slaughter time. In addition, the adoption of beta-agonist products during late-phase feeding has added anywhere from 15 to 35 pounds per carcass according to manufacturers' claims and made the cattle more efficient in the last days of feeding which, without these feed additives, can be a time of slower gains, slower lean deposition and higher fat deposition. Bottom line: The cattle are more efficient, making those last few pounds profitable when they once were not.

Hog weights have climbed this spring with the primary reason being exceptional performance. The pork industry widely accepted the use of one beta-agonist several years ago so that impact was seen in past increases. Diets have been "cooler" (ie. contained less energy) in the past couple of years as less corn, more DDGS and less fat were used in hog diets. Cooler diets should lead to lower gains but the hogs and, perhaps, a warm winter, overcame that impact. One contributing factor to higher hog weights has been the construction of more finishing spaces which simply allow hogs to be left on feed longer and thus grow more prior to harvest.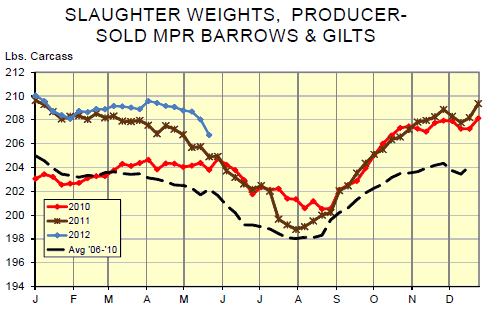 Finally, the fact that chicken weights have been higher is no surprise since the expansion of 2010 was almost exclusively in the "boning bird" portion of the broiler industry. The heavy birds from these units has pushed average weights up by 1.3 per cent YTD and average weights have exceeded year-ago levels in every week except last week during Q2-2012.