Flexibility Identified as Poultry Industry's Strength
MISSISSIPPI, US - Mississippi's top agricultural commodity weathers economic storms by responding quickly to shifts in demand, and economists at Mississippi State University predict 2012 will be a year of recovery.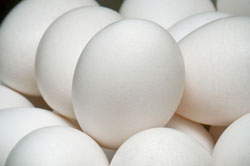 Increased prices for eggs have buoyed the poultry industry, which has been challenged by the high cost of feed and fuel. Egg production in 2011 was valued at $200.82 million, a 12 per cent increase over 2010. [Photo by MSU Ag Communications/Scott Corey]
In 2011, Mississippi ranked fourth in the nation in broiler production, with more than 765 million birds produced on 1,478 farms. The broiler industry represented over $2.21 billion in value for the year.

Mark Leggett of the Mississippi Poultry Association said broiler production has been reduced by an average of 4 per cent in 2012. The reduction is starting to make up for 2011's challenges.

"I heard someone say that 2010 was the best year ever, and 2011 was the worst year ever - they went from peak to trough in one year, in terms of profitability, because of overproduction and high feed costs," Mr Leggett said. "From what I've been told, all of the companies have moved back to profitability and 2012 is looking better, as long as corn prices don't spike and production is tightly controlled."

The per cent Department of Agriculture reported that hatcheries in the state set 17,689,000 eggs for broiler chicks during the week ending 28 April, which was 5 per cent below the same week in 2011. The overall number of chicks placed in 2012 is down 6 per cent.

"The industry began to pull back production by placing fewer chicks in late 2011 to combat increasing input costs and mostly flat demand," said John Michael Riley, agricultural economist with Mississippi State University's Extension Service. "For 2012, the focus has been on demand. Consumers continue to view poultry as an economical protein, but producers struggle to overcome the high cost of feed in this economy."

Dr Riley remains cautiously optimistic about the months ahead.

"Broiler production in Mississippi could be consistent with 2011, at 4.6 billion pounds," Dr Riley said. "Egg sets thus far in 2012 have been increasing slightly across the nation and similar numbers should be expected in Mississippi. It is tough to know for sure because the industry can make adjustments so quickly, but the current trend is showing at least steady growth in 2012."

Mary Beck, head of the poultry science department at MSU, said the number of birds processed during the last week of April is slightly higher than previous weeks.

"For the week ending 28 April, more than 31 million birds were processed, an increase of about 3 per cent from the week before and an increase of 0.61 per cent over last year's numbers," she said. "This suggests that market stabilization may have begun. In addition, prices of poultry meat in stores have risen slightly, particularly for dark meat, which is gaining in popularity."

Ms Beck said MSU scientists are researching a variety of ways to help the poultry industry, including reducing feed costs.

"With the high price of corn, driven in large part by the use of corn for ethanol, MSU scientists are investigating alternative feed ingredients to determine optimum inclusion into diets for growth and cost effectiveness," she said.

During the past year's economic difficulty, increased prices for eggs buoyed the industry.

"Egg production was valued at nearly $201 million in 2011, about 12 per cent higher than in 2010," Dr Riley said. "The higher value is completely attributed to higher prices, up 14 per cent in the latter part of 2011, because production was down 2 per cent."

Jackson, Mississippi, is the headquarters of Cal-Maine Foods, the largest producer and distributor of fresh eggs in the United States. Cal-Maine sells most of its eggs in 29 states across the Southwestern, Southeastern, Midwestern and mid-Atlantic regions.

Mr Leggett said Cal-Maine's Mississippi facility represents about 5 per cent of the company's total production.

"Most of Cal-Maine's eggs produced in Mississippi are sold within the state and to neighboring states," Mr Leggett said. "They continue to grow their specialty egg market, which includes brown, cage-free, organic and enhanced-nutrition eggs. These are steadily increasing areas of demand in the egg market."

May is National Egg Month, and the American Egg Board offers educational information along with hundreds of recipes for both family and foodservice use at http://www.aeb.org.