Kelly Turkeys Awarded for Keen Welfare & Sustainability Policy
UK - The health and welfare standards of Kelly Turkeys won an accolade in the 2012 Pig & Poultry Marketing Awards presented at the London Haymarket Hotel.
Leading suppliers to the premium traditional Christmas market, Kelly Turkeys were highly commended as runners-up for the Health & Welfare Award.

The judges were very impressed with the Kelly Turkeys' approach. They stated: "The staggering success of the brand is not only a testament to the management and marketing of the organisation, but the fact that it is driven by such a keen welfare and sustainability policy which underpins the whole saleability and excellent image portrayed by the business."

The presentation was made by Andy Black, managing director of Springetts Brand Design Consultants, in the company of the Farming Minister James Paice.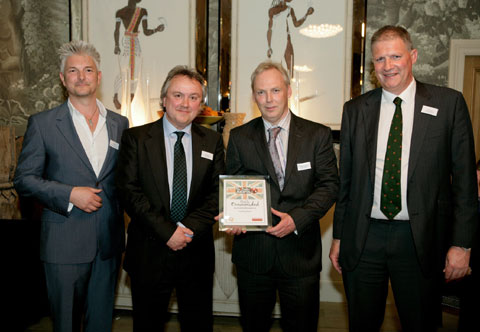 From left Andy Black, Philip Regan, sales and marketing manager of Kelly Turkeys, Stuart Beaumont, agricultural director of Kelly Turkeys and Bill Young, general manager at Genesis QA who sponsored the award category