'Red Dot' Award for Design Quality
GERMANY - Pas Reform's SmartPro™ incubator has been awarded a prestigious international 'red dot award' for high design quality.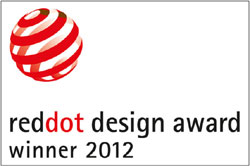 In a statement from the awarding Jury, Pas Reform's latest development in single-stage incubation was highly praised: "The SmartPro™ incubator manifests a clear, comprehensible design and fulfils the highest demands expected of technologies for incubation in terms of reliability and user-friendliness."

The red dot design award dates back to 1955 and is now one of the world's largest and most distinguished design competitions, attracting more than 4,500 nominations from 58 countries in 2012.

Pas Reform's award is for "product design" in the 'Industry and crafts' category, emerging as a winner out of more than 1,800 entries from renowned designers and emerging international talent.

Pas Reform will receive its red dot award during a ceremony to be held at Aalto Theater, in Essen, Germany on 2 July.