Cobb World Tech School 'Opens Up New Alternatives'
US - Forty-six participants from 25 countries took part in the 13th world technical school organized by Cobb-Vantress at Siloam Springs, Arkansas, USA.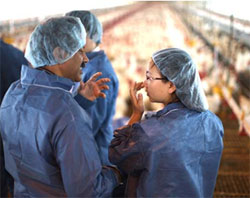 Muhammad Kashif Qazi, Tyson Foods, China and Mingmei Yei, BPBC, China, visiting Cobb parent breeders at a customer's family farm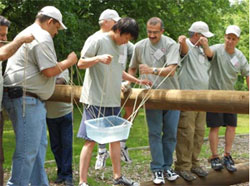 Students performing a team building exercise at the John Brown university
For the second year running, a webcast enabled online participants to share in some of the live presentations, which can still be accessed through the company's website.

"The 12-day program we've developed uses presentations, visits to facilities and case studies to show customers different methods to obtain information and how to use this data when they return to their own operations," said Gail Thorp, Cobb production administrator who organized the event.

"We've again received very positive feedback about the value of sharing contacts between customers in different countries as well as the learning and updating technical knowledge during the school."

Mexican participant Jorge Aguirre, from Pilgrims Mexico, commented: "This provided very valuable experience opening up new alternatives in the way I go about my daily schedule."

The program included visits to the University of Arkansas, breeder and broiler farms, a hatchery, processing plant and the Tyson Foods Discovery Center as well as presentations by members of the Cobb World Technical Support Team and invited specialists. There were also exercises at the local John Brown University where the participants performed tasks designed to foster leadership and team building skills.

Delegates at the World Technical School