Flickering Lights Can Badly Affect Poultry Production
UK - The UK Pig and Poultry Show was a great success for Agrilamp this year with customers commenting on how well the Agrilamp lights behaved, "No Flickering".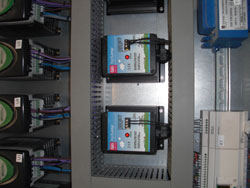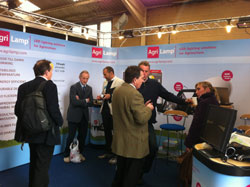 This is due to five years of constant research and improvement into the development of a lighting solution specifically for Poultry production. Not least as important is the advances seen in British developed cost effective dimmer technology from Agrilamp and the further development of retrofit equipment that deals with the issues found when combining old technology dimmers with new technology Agrilamp.

While Agrilamp functions normally with most dimmers on the market, some very old technology dimmers expect to see a heavy workload and when it's not there they respond by switching themselves on and off rapidly, giving the impression of a flickering light. The light is not flickering its just the dimmer unable to decide if it needs to deliver the power or not, said Alfred Latschenberger, European Sales Manager. Agrilamp has now developed equipment to combat this issue head on, enabling nearly all dimmers to function normally and in fact improve energy consumption on old systems.

Unlike Fluorescent Tubes and CFL lamps, LED runs at an extremely high frequency and remains high when dimmed so flickering issues should be a thing of the past; thanks to Agrilamp. We are keeping our solutions a secret so don't expect to find it anywhere else for some time.