New Pas Reform Service Centre for Indonesian Hatcheries
INDONESIA - In response to continuing growth in Indonesia, Pas Reform is launching a new Service and Projects Centre at BSD City in Jakarta, in cooperation with PT. Berdikari Sarana Jaya.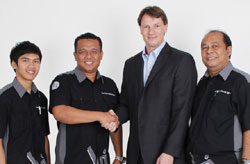 Headed by Mr Deddy Kurnia (President Director) and Mr Zein Yaldi Saleh (Sales & Marketing Director), the new Centre will provide customers with the full back up of a local technical and specialist team, with access to the full range of spare parts for rapid delivery.

Mr Bas Kanters, Pas Reform's Sales Director Asia, says of the new Centre: "Working with Mr. Santad Dentstaporn as our Agent and Hatchery Specialist, Pas Reform has delivered strong growth in Indonesia's growing poultry sector.

"We are delighted to be building further on this success with PT. Berdikari Sarana Jaya, to provide an enhanced, localized level of commitment to the Indonesian hatchery sector."

The new Service and Projects Centre will have the full backing of Pas Reform Academy in The Netherlands, with administration, a fully stocked spare parts department and a Projects department on site at BSD City.

The Projects department will provide consultation, advisory and design services, as well as specifying maintenance programmes for Pas Reform's single-stage hatchery customers.

Mr Pebri Patekawa joins PT. Berdikari Sarana Jaya in Indonesia, as Service and Maintenance Manager.