Performing Two Steps Lines - Meat-Bone Debone and Separator
THAILAND - South East Asian markets are developing rapidly and at the same time the processed meat sector is also seeing changes.
At the last Propack exhibition in Bangkok. Thailand, LIMA Company presented its TWO step lines, which is already well established in European countries. The first operation is deboning at very low pressure with Lima's D patented technology through Ø 3 mm filter to obtain at optimum yield - a coarse ground meat allowing the production of high quality meat products such as meat balls, hamburgers, nuggets, coarse meat sausage etc.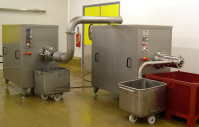 The second operation sees the co-product - mix of bones and meat - resulting from the first operation automatically transferred by pipe (without an extra pump) to the second operation MSM SEPARATOR, to recover the remaining MSM meat. The result is a well preserved MSM meat with technological performances allowing processors to produce classical range of sausage for instance. Many different line concepts are available depending on the existing machines and capacity as well as the strategic target of each customer. Lima says the benefit of such D + S LIMA lines are :
Production of two different qualities of recovered meat, with very easy recovered meat quality criteria modifications.
Optimisation of the raw material inputs depending on their market price and availability.
Better adaptation possibilities to the customer's production needs.
These machines have all the benefits of the LIMA separators:
No extra pre-breaking,
Low temperature increase,
Protected recovered product,
Very easy and reliable yield adjustment.
They also have simple maintenance procedures and short down time for cleaning and thanks to their ergonomic concept, they are hygienic and operator friendly.