Phyzyme XP: Dose for Profit and Combat the Phytate Effect
GLOBAL - Optimising the use of phytase, to counter the anti-nutrient effects of phytate in the diet, can considerably increase the energy and protein value of feed ingredients and reduce the need for phosphates in diet formulations, leading to substantial feed cost savings.
Not all phytases are equal when countering the costly 'phytate-effect' in the diet of animals, as confirmed by new research1 published in the international journal, Analytical Biochemistry.
The Phytate Effect
Not only is phytate the principal storage form of phosphorus in many raw materials such as cereals, seeds, vegetables and legumes, it also reduces the availability of a range of nutrients to the animal. Phytate does this by forming complexes with protein, calcium and trace elements throughout the digestive tract - the 'phytate-effect'. At an acidic pH in the upper part of the digestive tract, phytate binds to proteins forming insoluble complexes. The protein-phytate complexes can impede protein digestion with negative implications for protein, amino acid digestibility and energy utilisation. This effect decreases the nutritional value of diet formulations and costs money in terms of animal performance.
Measuring the Efficacy of Phytase Against the Phytate Effect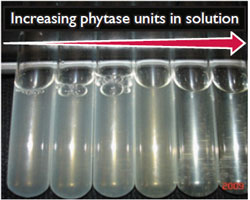 A recent in vitro assay, simulating in vivo pH and temperature conditions (pH3 and 37ºC) demonstrated the binding effect of phytate with proteins by causing the solution of lyzosome or soy-protein to become cloudy (turbid). Adding phytase to the turbid assay solution breaks these bonds, releasing the phytate bound nutrients. The more proteins released, the clearer the assay solution becomes.

Results from applying this in vitro test to a number of commercially available phytases showed that Phyzyme XP was clearly different from the others, reducing solution turbidity more effectively. Additionally, the higher the inclusion rate of phytase, the faster the phytate-protein bonds are broken and the more rapid is the release of bound nutrients.

To find out how much you can save by combating the phytate effect to maximise your margins with your personal Phycheck service, contact Danisco by e-mailing [email protected].

1 T.T. Tran, R.Hatti-Kaul, S. Dalsgaard and S.Yu (2011)
A simple and fast kinetic assay for phytases using phytic acid-protein complex as substrate.
Analytical Biochemistry, 410, No.2, 177-184.