AgriLamp: Working with Farmers to Increase Profits
GLOBAL - We all know the difference lighting can make to the average poultry farm in terms of energy use and cost reduction, but what if switching to AgriLamp lighting could not only reduce the running cost of your farm but also significantly increase your production?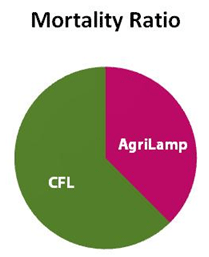 How are your birds seeing things at present what with the increase of feed and energy costs? Or more importantly, how are your profits looking?

AgriLamp is a company that is regarded as one of the world leaders in agricultural lighting research and development. Poultry is where the company began and still leads the market. It has years of experience in providing lighting for new farms and integrating AgriLamp into existing buildings and dealing with the technical changes that can sometimes be required.

Bulbs are fully dimmable without flickering and because they give off so little heat, they help provide an environment with a stable temperature. In fact, in warm climates, farmers have experienced a reduced need for air conditioning for this reason. The AgriLamp provides low-energy lighting that will reduce your lighting costs. With each incandescent bulb you change to an AgriLamp bulb, you get a return on investment within 12 to 14 months (based on an average European energy cost of 10 cents per KW). With a bulb life-time of more than 35,000 hours, it is easy to see how the savings mount up.

AgriLamp knows that for you the bottom line is not all purely about saving energy, it is also about maximising the potential of your poultry. It knows it produces a bulb that has better light distribution and a better light quality than CFLs or incandescent bulbs; a bulb that provides better animal welfare by reducing pecking and encouraging calmer flocks. AgriLamp also knows the positive effects its bulbs have on production, and also has real, on-the-farm results to show this.

The company spent a long time working with industry leaders in the Far East, Europe and America, and collecting data from real farmers, as well as running a wide ranging series of tests in controlled environments, using comparable birds and identical buildings, feeds etc, and the results were truly astounding. They proved that farms that switched from CFLs to AgriLamp lighting experienced a reduced cull rate during grown out by 44 per cent, a decrease in total mortality rate of 40 per cent, as well as birds that reach slaughter weight (approximately 2.3k) on average 72 hours earlier, with an improvement in feed conversion rate, resulting in heavier and healthier birds. The company has also seen a reduction in waste feed of between two per cent and five per cent. Switching to AgriLamp is certainly a bright idea!

The company is sure you would like to see the numbers for yourself, and while data providers are not keen to publish data, it can show you.

To understand better how AgriLamp is helping farmers around the world to increase their profits, contact any AgriLamp distributor to arrange a presentation in your local area or contact the company directly at [email protected].