Aviagen Announces Keith McCay to Oversee Poultry Breeding Operations
US & UK - Aviagen today announced the promotion of production executive Keith McCay to Director of Pedigree and Great-Grandparent (GGP) Operations. In his new role, Mr McCay will oversee all operational functions for Aviagen's breeding programs in the United States and United Kingdom. He most recently was Vice President of Operations at Aviagen North America.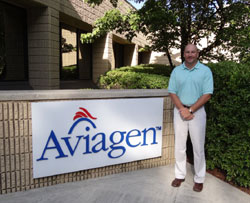 Reporting directly to Aviagen CEO Randall Ennis, Mr McCay will be responsible for managing the production of Pedigree and GGP stock for the company's US and UK programs. He will focus on the continuous improvement of stock quality both internally and externally. Mr McCay will also drive innovations to improve the output through efficiencies in the Pedigree and GGP operations, working closely with Aviagen's R&D operation to establish, test and implement best practices across the program.

"With Keith's experience and knowledge of the breeding program and his focus on operational excellence, he will bring a new dimension to our elite level breeding operations," said Mr Ennis. "Keith has been involved with operations at various levels for nearly two decades here at Aviagen, and will work closely with R&D and the Executive Board to incorporate unique and exciting technology into the existing program."

During his 22 year career in the poultry industry, McCay has spent 18 years at Aviagen and held senior management posts in GP operations, quality assurance, sales and production. McCay grew up on family broiler farms with ConAgra, and pursued a BS degree in Biology from Athens State University. Prior to joining Aviagen he held the position of Broiler Flock Supervisor at Wayne Farms for four years.