Ross Distributor Holds 40th Japan Chunky Association Meeting
JAPAN - The long and successful relationship between the Ross distributor, Nippon Chunky Co Ltd and their customers was evident at the 40th Japan Chunky Association (JCA) Meeting held in Okayama City on 29 May. Over ninety senior customer executives and key members of the Aviagen international management team attended the annual association meeting.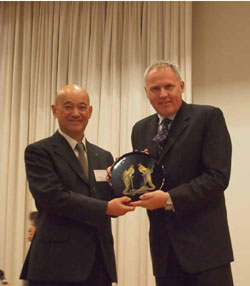 A Presentation at the 40th Japanese Chunky Association (JCA)Meeting. From left: Mr Sam Kikuchi, President JCA, Mr Bob Dobbie, President Aviagen International, Mr Tom Exley, VP Aviagen International Business
Two key presentations were delivered to the group, the first from Bob Dobbie, President Aviagen International on 'Current Key Traits of Genetic Improvement and Future Direction, Aviagen's Strategy' and the second from Tom Exley, Vice President, International Business who addressed the 'Global Broiler Industry and Key Issues.'

Following the presentations and approval of JCA activities, Mr. Osamu Kikuchi, President of Japan Chunky Association expressed his appreciation for the support and participation from the large group of attendees and highlighted the excellent performance trends of the Ross 308 breeder and broiler package being recorded in Japan.

Mr Kikuchi also addressed the earthquake and the ensuing disaster that occurred during the middle of last year and commented that although sales were affected, the company recovered to sell a record number of Ross parent stock ever recorded in the history of Nippon Chunky Co Ltd.

The meeting welcomed the new president of the Association, Mr Koji Morinaga and expressed its confidence in a successful future year for the industry in Japan.

"Ross has a sound history and performance record in the Japanese market. The meeting was an indication of the well established distributor and customer relationships and the effort that has been exerted by all to achieve the leading performance of the Ross 308 product in the market. We are grateful for excellent support from the attendees at the Japan Chunky Association Meeting and look forward to working with them all in the coming year," commented Orapan Chansawat, VP Ross Aviagen Asia.