CME: Decline in July Broiler Hatchery Flock
US - Under the "Finally Some Good News" heading, we start today's message with news that Mexico has announced that it will not impose anti-dumping duties on imports of US chicken leg quarters, write Steve Meyer and Len Steiner.
That announcement came Wednesday from Mexico's Foreign Trade Commission (COCEX). It appears that the alleged dumping was trumped by the need for chicken in the wake of a serious avian influenza outbreak that has driven chicken prices higher in Mexico. Mexico is our largest chicken export customer.

The case dates back to early 2011 and, in some meetings we attended this past spring, was a cause for major concern among US broiler companies. There were rumors of a pending settlement late last winter that fell apart early this spring and some observers were concluding that duties were certain. But this all unfolded against the backdrop of Trans-Pacific Partnership negotiations that are at least fueling some semblance of reason in many quarters.

This case exemplifies the problems in the concept of "dumping" when a given product is a part of a larger production unit. Dumping has long been defined as selling below cost of production in another market. But what is the cost of production of a leg quarter? The average cost for the entire bird? Yes but no. The market has clearly valued leg quarters lower than that average production cost for many years so are broiler companies always "dumping" leg quarters? Even in the domestic market? This same issue applied to Mexico's claims a few years ago that the US was dumping hams and pork shoulders into their market. Where "parts" are concerned, the cost of production definition is seriously flawed.

And this issue suggests that a review of the current chicken situation is in order. Profitability for broiler companies has come to screeching halt as feed prices have risen. After getting back in the black early this year, our estimates of broiler margins went negative again in June and will very likely stay in the red for the foreseeable future given the run-up in grain costs. Soybean meal is very important to broiler producers as broiler diets contain more meal than do pig diets. This component could see some help this spring if, as is expected, South American plantings are large and if, as is hoped, South American weather is favorable.

Other recent developments in the broiler business are:
The broiler hatchery flock declined in July. That is really not news since the hatchery flock usually grows from November or December into June or July and then declines. That seasonal pattern is clear n the chart at top right. The news was the size of he decline. The 2.4 per cent drop from June is the largest in the last decade and likely marks a rather quick response to higher feed costs.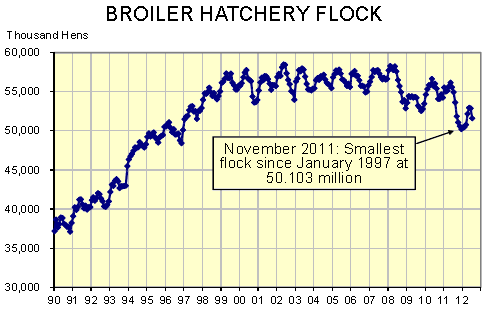 Broiler egg sets exceeded year-ago levels for the first time in over a year the week of 21 July. The increase was only 39,000 eggs or 0.02 per cent but it was an increase after nearly 15 months of cutbacks. But we are not concerned about the positive number since it comes in comparison to MUCH lower egg sets one year ago and really represents more of the same for broiler numbers and output. Broiler egg sets are down 3.8 per cent year-to-date.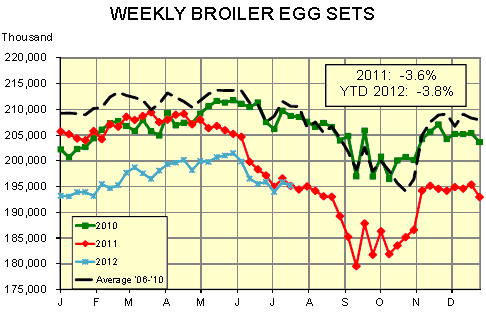 Chick placements also exceeded year-ago levels the week of 21 July — by 0.17 per cent. This, again, is no cause for alarm from a supply standpoint since the comparisons are to 2011 levels much lower than both 2010 and the 2006-2010 average. Expect these numbers to be close to year-ago levels the rest of this year. Placements now stand 3.8 per cent lower than in 2012, year-to-date.


Broiler slaughter is down 4.9 per cent year-to-date and was still 1.2 per cent lower than one year earlier as of July 20. This figure, too, will catch up to 2011 in the weeks to come but we do not anticipate any significant growth.


Finally, broiler production got within 1 per cent of last year the week of 21 July but remains down 5 per cent for the year. Slaughter weights which were higher in the first half of 2012 will be more comparable to last year henceforth.