Poll: Public 'Appalled' over Duck Rearing Conditions
UK - New research shows that eight out of 10 people are 'appalled' that farmed duck can be reared without bathing water and think it should be illegal, according to RSPCA.
More ducks are being farmed in the UK but the Society says welfare has taken a backward step with millions of ducks being deprived of the very basics like bathing water.

The Royal Society for the Prevention of Cruelty to Animals (RSPCA) today launched the 'Like a duck to water' campaign to improve conditions for Britain's forgotten farm animal.

Dr Marc Cooper, duck welfare expert from the RSPCA's farm animal science team, said: "Ducks are waterfowl, they need bathing water, why else would they have webbed feet?

"Bathing water is good for ducks' health - it helps keep their eyes, nostrils and feathers clean. And in the same way that pigs like to root and chickens like to dust bathe, ducks like to have bathing water so they can do all the things ducks naturally do."

About 14.7 million ducks were reared for meat in the UK last year - only a third of them to RSPCA welfare standards. Despite being the third most farmed animal for meat in the UK, duck is joint bottom of the pecking order when it comes to public concern and a vast majority of people (84 per cent), according to a YouGov poll for the RSPCA, admitted that they had never considered how the birds are reared for meat.

The RSPCA's 'Like a Duck to Water' campaign is highlighting the terrible conditions UK ducks can legally be reared in and trying to put the brakes on falling welfare. You can find it at www.rspca.org/ducktowater and this is where you can take action and urge supermarkets to only stock duck which has access to bathing water.

By law, ducks can be reared in sheds with no windows, do not have be given bedding, and can be given nothing more than a metal ball bearing-type water drinker similar to that given to pet hamsters.

Some ducks in the UK can be reared to the duck industry's own Duck Assurance scheme standards but RSCPA says this scheme does not require ducks to have natural daylight or bathing water.

RSPCA welfare standards insist on bathing water as well as bedding and natural daylight but the proportion of ducks being reared to these standards has dropped from about half of UK production in 2010 to about 30 per cent last year and it has declined further in the first few months of this year.

One of the contributing factors is that one major duck producer and supermarkets have downgraded from RSPCA welfare standards to join the Duck Assurance Scheme - a huge backwards step for the welfare of about two million ducks, says the Society.

A YouGov poll for the RSPCA revealed:
More than eight out of ten people (81 per cent), rising to 88 per cent of women agreed they were 'appalled' that by law farmed ducks may never get access to bathing water
Eight out of ten people (80 per cent) rising to 86 per cent of women thought it should be a legal requirement to give farmed ducks bathing water 83 per cent, rising to 88 per cent of women and 90 per cent of the over 55s, agreed that supermarkets should only sell duck meat from farms which provide bathing water.
Duck 'seen as a luxury'
Eloise Shavelar, RSPCA campaigner, said: "More ducks are being reared in the UK but sadly welfare appears to be getting worse.

"Even animal lovers don't realise that there are severe welfare problems for farmed duck because it's seen as a luxury product and therefore shoppers don't think it's intensively reared in a similar way to chicken.

"We've all grown up seeing ducks on ponds at the park and naturally assume farmed ducks must have bathing water too - incredibly, that is not the case.

"We want shoppers to know the truth about the duck meat they buy and help make life better for Britain's forgotten farm animal."
Animated film
Shoppers can make sure they are buying higher welfare by looking for the blue and white Freedom Food logo which means the duck comes from farms inspected to the RSPCA's strict welfare standards.

Freedom Food-labelled duck is on sale at some branches of Sainsbury's.

The RSPCA has produced an animated film about the plight of Jennifer the Pekin duck called 'Uncomfortable Tails' and you can see this online www.rspca.org.uk/ducktowater.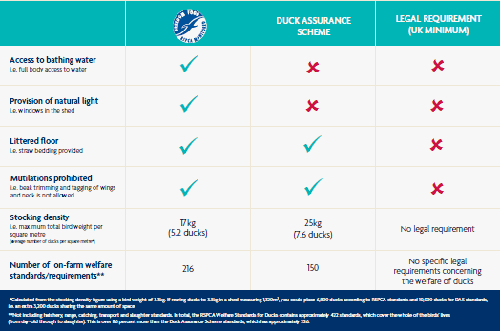 Indoor-reared meat ducks: Key on-farm welfare requirements
Source: RSPCA