New IP55-Rated Radiant Tube Brooder
US - Space-Ray's new BIG FOOT gas-fired radiant tube poultry brooder, providing one of the largest rectangular shaped, heating footprints available for modern poultry applications, is now available in a powerful 23.5kW (80,000 Btu) European model that features a particulate and moisture protection rating of IP55 for the burner box and fan, enhancing product longevity in the dusty and often wet conditions found in poultry houses.
The burner box contains all the power, thermostat and gas connections in one central location for easier installation and maintenance.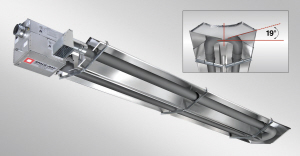 Shown above is Space-Ray's new 23.5kW (80,000 Btu), CE Certified, IP55 rated Big Foot radiant tube brooder. The IP55 rating means components are protected from dust and moisture. Inset shows unique 19 degree reflector angle.
Space-Ray's BIG FOOT model is fully CE certified, featuring a flake free emitter tube surface for a safer and cleaner working environment.

Tested before dispatch it is supplied in three sections, for easy installation. With CO2 in poultry houses becoming an increasing concern following the EU broiler directive 2011, the option to flue BIG FOOT is seen as a real advantage - expelling the CO2 produced through combustion to the outside of the house.

Available in either natural gas (SBF25-N-IP55-6) or propane (SBF25-L-IP55-6), the BIG FOOT saves on fuel costs, reduces maintenance and permits higher mounting in the poultry house for broader coverage and added efficiency.

The reflector angle of the BIG FOOT radiant tube brooder is engineered to an optimum angle of 19º, improving the radiant footprint and minimizing convective wash. The result is a wide, rectangular heat pattern that provides a more uniform heat distribution, better brooding conditions, and more comfort for the birds.

Space-Ray's BIG FOOT brooder series use positive pressure (CSA certified) or negative pressure (CE certified) heating systems to draw the products of combustion through the heavy-duty calorized aluminized steel combustion chamber. Calorized tube material offers improved corrosion resistance and greater radiant heat output.

The BIG FOOT radiant tube brooder is also available in either "U" shaped tube or straight tube versions. The standard emitter tube length is 20 ft (6.1 m), while the overall length for the "U" tube version is 11½ ft. (3.5m) and the straight version is 21½ ft (6.6 m). Each CE-Certified unit offers a three-year limited warranty on the complete emitter assembly.