Optivite Presents the Ultimate Mycotoxin Binder - Ultrabond
GERMANY - Visit Optivite's stand at EuroTier 2012 (13 to 16 November, Hall 17, E16) and see how Ultrabond from Optivite can make a difference to your business.
Recent global concerns regarding mycotoxin contamination of feedstuffs originating from undesirable environmental conditions has stimulated a renewed interest in mycotoxin binders.

Furthermore, the World Health Organization (WHO) currently estimates that approximately 25 per cent of world crops are contaminated by mycotoxins annually. Therefore, no region or country is immune from mycotoxin contamination, further emphasising the necessity for animal producers to adapt effective control measure to combat the constant threat of potential contamination.

Mycotoxins are toxic secondary metabolites produced by fungi belonging to Aspergillus, Penicillium and Fusarium genera occurring in feedstuffs. The major concern for poultry producers is that mycotoxins frequently exist together often interacting to produce synergistic toxicity, with subsequent clinical diagnosis rather difficult. Mycotoxins exhibit a variety of biological effects, which include growth depression, lower egg production, poor feathering, immune-suppression, intestinal disturbances, liver and kidney toxicity, central nervous system effects and estrogenic effects.

The profitability of any commercial unit is largely dependent upon optimal growth performance and minimal disease incidence. Therefore, producers need to ensure appropriate control measures are introduced to reduce the risk of mycotoxin associated disease and growth depression. Mycotoxin binders are recognised as being highly valuable in preventing mycotoxins from being absorbed throughout the gut and subsequently reaching specific target organs such as liver and kidneys.

Optivite, one of Britain's foremost animal nutrition companies, has formulated a unique mycotoxin binder that has been demonstrated to bind more toxins per gram than other products (Figure 1). This study evaluated the efficiencies of individual binders at the lowest recommended inclusion rates among six common mycotoxins (Aflatoxin, Ochratoxin A, Trichothecene, Zearalenone, Fumonisin B1 and Deoxynivalenol). This study was designed such that all six mycotoxins were simultaneously analysed presenting a multi-mycotoxin challenge rather than six individual mycotoxin tests.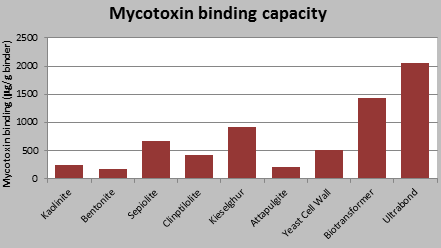 Figure 1. Mycotoxin-binding capacity (µg/g of binder
Ultrabond is a synergistic blend of selected natural minerals designated to ensure broad spectrum activity against multiple mycotoxins and natural bioflavonoids. Bioflavonoids are powerful natural antioxidants which are able to assist the bird in the detoxification process, by aiding health and liver function.

Ultrabond provides the widest possible spectrum of mycotoxin control effectively binding mycotoxins permanently thus, not affecting key nutrients such as vitamins and trace elements essential for bird growth. The recommended usage is 1kg to 5kg per tonne of complete feed depending on individual circumstances.

Come and visit Optivite's stand at EuroTier 2012 (13 to 16 November, Hall 17, E16) and see how Ultrabond can make a difference to your business.

Email the company at [email protected] or call our customer services team on +44-(0)1909-537380.