Record Attendance for International Technical School
US - A record attendance occurred recently when Hy-Line International hosted the 2012 International Technical School in West Des Moines and Dallas Center, Iowa.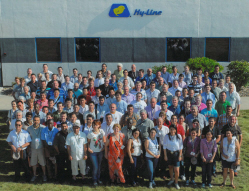 Over 150 customers, guests and Hy-Line personnel from 32 countries participated.

Hy-Line geneticists, veterinarians and technical experts were joined by industry experts to fill four days of both classroom education and hands-on workshops.

Attendees shared their experiences with global colleagues and updated themselves on the latest egg industry trends around the world.