Aviagen Poultry Veterinarian Earns Masters
AUSTRALIA - Dr Pavel Shkarlat, one of Aviagen's Veterinary Team members, is set to be awarded with a Master of Avian Health and Medicine (MAHM) doctorate following the successful completion of the online programme from the University of Melbourne.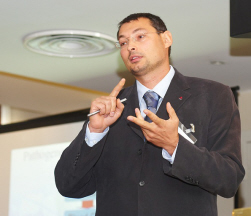 Dr Pavel Shkarlat of Aviagen has earned a Masters in Avian Health and Medicine from University of Melbourne as part of Aviagen's on going focus on improving staff training and knowledge.
Dr Shkarlat was assumed his current role, in which he provides health and management advice as the Ross Veterinarian for the Turkey, Middle East and Africa (TMEA) region, earlier this year.

Originally from Russia, Dr Shkarlat received his Doctor of Veterinary Medicine degree from the Peoples' Friendship University in Russia in 1999.

Nick Dorko, Global Head of Veterinary Services, said: "We are all thrilled for Pavel to receive his Masters in avian health from the University of Melbourne. He has worked extremely hard to improve his own knowledge and skillset and deserves this recognition.

"It goes to show that Aviagen is committed to ensuring that its staff are trained to the highest possible standard and that we support our employees in continuing their personal development, which will not only benefit them, but also our team and customers."

Dr Shkarlat has been with Aviagen since 2005 and has previously held roles within the company as a Technical Service Manager for Eastern and Central European countries and most recently as Senior Technical Service Manager for Russia. Prior to that he had worked for OJSC Cherkizovo Group in Moscow and spent time as a visiting researcher at The National University of Ireland in Galway.