EUROTIER: Cobb, Irvine's Celebrate 50th Anniversary
GERMANY - The 50-year association between Cobb and Irvine's in Zimbabwe was marked by a presentation attended by more than 120 guests from the global poultry industry at Hanover this week.
In presenting David Irvine with a commemorative plaque, Jerry Moye, president of Cobb-Vantress, said the company greatly valued its relationship with its distributors and spoke of the great success of the Irvine family in sustaining and growing their business during the many difficulties they had faced during those 50 years.

Mr Moye said the two companies shared similar values centred on treating team members with respect and providing strong service to their respective customer bases. He also emphasized the 'family' atmosphere that both Cobb and the Irvine's create with their employees, customers and communities.

The original agreement was signed by John Knowles, co-founder of Cobb in the UK, with David's father Bill in the former country of Rhodesia. Mr Knowles, who moved out of the poultry industry to found Marwell Zoo, spoke in a video message of the 'heroic' efforts that the Irvine's had made to develop their business through troubled times for Zimbabwe. David Irvine spoke of how the business has developed from the early years when his father bought a 600-egg incubator to operate in a garage with chicks reared by his mother in a small bedroom. The first imports of Cobb chicks came through Ireland but trade restrictions from 1965 prevented imports of stock until the country's independence in 1980.

As business grew new hatcheries were opened in 1990 and 2000 producing together almost 900,000 chicks a week, but then with hyperinflation destroying the economy output fell to under 20,000 a week. But since the introduction of the US dollar in 2009 inflation had dropped to two percent, enabling production to return to more than 800,000, a week with a continually increasing flock of Cobb 500 grandparent stock to provide for future needs in sub-Saharan Africa.

Now, through Cobb Africa, Irvine's is selling Cobb parent stock in 16 countries across sub-Saharan Africa where Cobb is the dominant breed.

Today, the Irvine's business is not only contributing to food production in Zimbabwe and the region but also housing 800 families, providing primary school education for 800 pupils and running two clinics.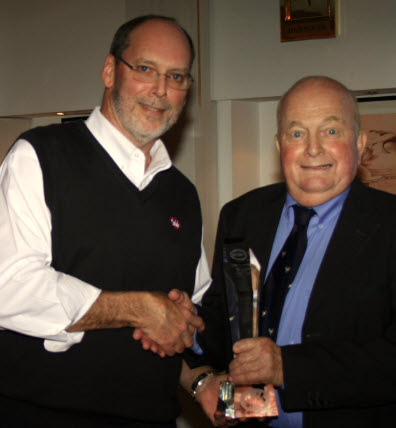 Jerry Moye (left) presents David Irvine with a plaque commemorating Irvine's 50-year association with Cobb