US-Colombia FTA Approval Leads to Increased Exports
COLOMBIA - On 22 November 2006, the US and Colombia signed a free trade agreement (FTA), which was approved by the Colombian Congress on 14 June 2007. After all necessary steps were taken for ratification, the US has had increased access to the Colombian market.
According to the USDA's latest International Egg and Poultry review, between January to September 2012, the US exported 22,312 metric tons of broiler meat, up 11 per cent compared to the same period a year ago.

During the same period in 2012, turkey meat exports from the US amounted to 705 metric tons, 468 per cent higher than the same period in 2011.

US egg and egg product exports to Colombia totaled 88 metric tons, up 89 per cent compared to the same time a year ago.
US Broiler Meat Exports to Colombia Colombia in Metric Tons (MT)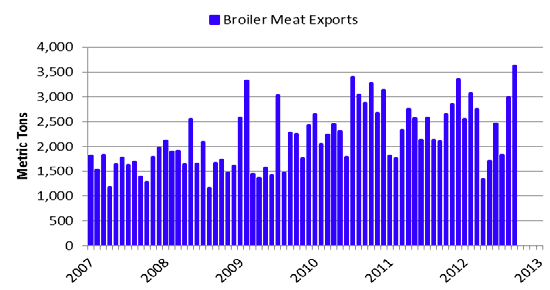 US Turkey Meat Exports to Colombia in Metric Tons (MT)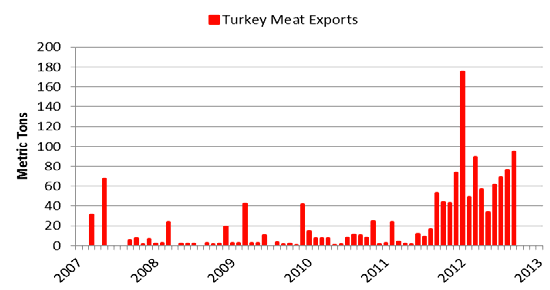 US Egg and Egg Products Exports to Colombia in Metric Tons (MT)
Source: Department of Commerce, US Census Bureau, Foreign Trade Statistics/USDA FAS
According to the report, in spite of increased access into the Colombian market, exporters from the US continue to struggle with port of entry issues prompting agricultural department (USDA) to release a report coming up with ways to successfully improve ease of shipment.