Visitors Czech out Aviagen and Moy Park
UK - Aviagen and long-term Ross distributor, Moy Park, recently welcomed a number of visitors from the Czech Republic as part of a three-day tour and fact-finding mission. The senior executives were treated to a number of high level presentations before visiting several different farms.
The initial visit began with a trip to Aviagen's facilities in Scotland where Xavergen's Brno area director Vojta Rotter along with Zdenek Tvrdon and Ivo Vymetal, director and commercial director at Afeed Agrofert respectively, were given an overview of Aviagen's European operations, a presentation on health and biosecurity and a look at the company's research and development strategy.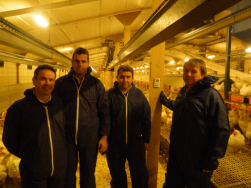 left to right: Neil Clark, Ivo Vymetal, Zdenek Tvrdon and Vojta Rotter in a free-range house.
Neil Clark, Regional Technical Manager, Aviagen commented: "These visits are as much about the customers getting to know us as they are about us understanding what the customer needs. This was a very personal visit with a close group and it was good to have frank and open dialogue as part of a technical forum here in Edinburgh."

Alan Huston, General Manager, Breeders and Hatcheries, Moy Park said: "It is always a pleasure for us to welcome Aviagen visitors to Moy Park and we were particularly pleased to welcome the guys from Xavergen and Afeed Agrofert. We recognise that the Czech Republic is a rapidly developing and important market in the EU and we are always keen to share ideas and knowledge with those who are developing their business. I understand these companies are moving towards a fully integrated operation and as such were keen to see how other companies like Moy Park have set up their operations.

"We visited our farms from Parent Rearing through to the various types of Broiler Growing and also visited our largest commercial Broiler Hatchery and at all stages they were very keen to learn more about the business – it is always refreshing to host a party who engages in such a positive way. We were also pleased to be able to visit Thompsons feed mill our partner feed supplier in N Ireland and show them the biosecure feed milling operation which forms an extremely important part of our supply chain.

"It is through visits such as this that we all can learn from each other and grow and develop our businesses to mutual benefit in an ever more competitive market."

Following the meeting at Newbridge, they travelled Northern Ireland ahead of a visit to Moy Park's Donaghmore Hatchery the next day. The guests also had the chance to look around different types of farms including standard broiler, windowed and free range facilities.

Vojta Rotter said: "We were all amazed with lots of interesting moments throughout the visit. We very much appreciated this new experience and were very happy that we could find lots of information about the structure and strategy of the Moy Park integration.

"Lots of the things were quite new for us and we have to thank Aviagen and Moy Park for everything they shared with us. The programme was very well prepared and we appreciate very much the time spent with us."

Neil Clark added: "I'd just like to pass on our thanks to Moy Park for opening their doors in such a generous way and helping this initiative be a real success."