British Poultry Industry Recognises Excellence at BPC Awards
UK - The British poultry industry celebrated outstanding achievements and potential for excellence during the British Poultry Council Annual Awards at the House of Commons.
BPC Chairman John Reed presented the awards with David Heath MP and Anne McIntosh MP and highlighted the unique contributions of each winner to the poultry industry.

Mr Reed said: "This year's winners represent the diversity of the industry. Some are distinguished, dedicated, long serving colleagues and others are newcomers who have demonstrated a willingness and curiosity for training, scientific research and its practical application."

The BPC Awards recognise years of distinguished service, contribution to marketing, potential for future excellence and support for the industry (see full list below).

Mr Reed also pointed out the key role of the British poultry industry in career and skill development: "Our goal as an industry is to attract, recruit, train, develop and retain people. We've already done a lot with the Poultry Passport program, the Harper Adams scholarships and the poultry apprenticeships. Now, we need to focus on how we can attract young people in the industry."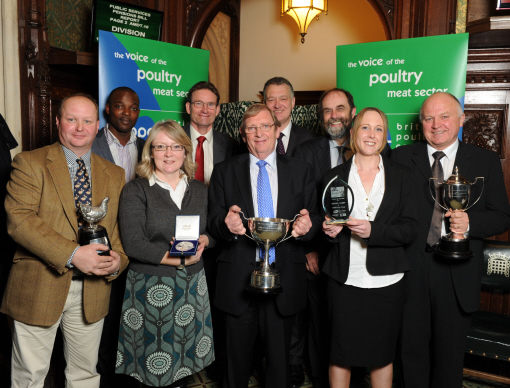 From left to right: William Brisbourne, Adekunle Adebiyi, Jennie Brisbourne, John Reed, Joe Lawson, Andy Lewins, David Heath MP, Rachel Almey, Ken Morris.
Picture credit: Matt Fowler.
David Heath MP, Minister of State, welcomed the industry's celebration of excellence: "I'm delighted to take part in the BPC Awards and to meet outstanding members of the British poultry industry. The poultry industry is a vibrant sector with many career and skills development opportunities and I strongly support BPC's efforts to attract new talent."

The winners of the 2012 BPC Awards are:
William and Jennie Brisbourne (Marketing Award)for their outstanding contribution to the promotion and marketing of the goose sector;
Rachel Almey (BPC-Pfizer Young Trainee of the Year Award) for her outstanding career development project;
Joe Lawson (Distinguished Service Award) for his unique contribution to welfare standards, the implementation of the EC Broiler Welfare Directive and the ACP Scheme;
Ken Morris (Distinguished Service Award) for his commitment to the poultry industry and his key role in welfare standards in breeding and hatching systems;
Andrew Lewins (Distinguished Service Award)for his outstanding involvement in the turkey sector and his key role as an advocate for the poultry industry;
Adekunle Adebiyi (BPC Scholarship) for his outstanding research in the field of poultry and alternative protein sources for turkeys and broilers;
Rob Davies (Special Merit Award) for his outstanding work on Salmonella and poultry health at AHVLA.