Suffolk Winner of Pfizer Trainee of Year Award
UK - Suffolk broiler farm manager Rachel Almey is the winner of the 2012 Pfizer Poultry Trainee of the Year Award.
She was presented with the award, which includes a £2000 training grant, by the Farming Minister David Heath at the British Poultry Council's annual awards ceremony at the House of Commons.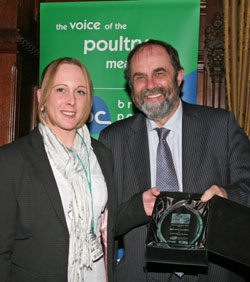 Farming Minister David Heath (right) presents Rachel Almey with her engraved trophy as winner of the Pfizer Trainee of the Year Award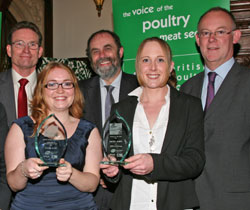 Pfizer Trainee of the Year Rachel Almey (right) and Adele Hepburn from her employer Vion with the trophies; with them (from left) John Reed, chairman of the British Poultry Council, Farming Minister David Heath and Stuart Andrews of Pfizer Animal Health
The award, which recognises ability, enthusiasm and commitment to training, is sponsored by Pfizer Animal Health in conjunction with the magazine Poultry World and for the first time the British Poultry Council.

Rachel Almey manages the VION Food Group's farm at Laxfield where her first flock of broilers grown to higher welfare standards broke the company's record for performance.

She began with Vion working in its processing plant at Eye in 2009, but saw her future working with chickens on the farm and after impressing with her dedication and thirst for knowledge on a unit at Foulden in west Norfolk she grasped the opportunity to manage her own unit at Laxfield.

One of the judging panel, Stuart Andrews of Pfizer Animal Health, said it was her passion for poultry and the ability to benefit from further training at a key stage in her career that had been key factors.

Vion's regional broiler manager Werner Strydom stated: "Rachel does not miss anything and this is what makes her such an exceptional farm manager. With continued support, she will be one of our bright stars for a long time to come."

Rachel is completing an NVQ level 3 work-based diploma in agriculture through Poultec Training. She plans to use the training grant to pursue her interest in bird welfare and learn more about the breeding and veterinary side of the business.

The runner-up is Greg Pennington who has been working for Oaklands Farm Eggs for four years in Telford In Shropshire, managing several rearing units and then moving to the unit at Harper Adams University College at Newport where 66,000 hens live in enriched colonies. He has researched their behaviour and performance through the 24-hour cycle and compared this with hens in a barn system at Oaklands. Greg now works for David Davies & Co at Minsterley, Shropshire, and has begun studying for a master's degree griculture with the Scottish Agricultural College.
The Pfizer Trainee of the Year Award is chosen by a judging panel comprising Philip Clarke, editor of Poultry World; Richard Griffiths, senior executive officer of BPC; John Newton, senior poultry consultant of ADAS, and Stuart Andrews, poultry technical manager for Pfizer. In addition to the £2000 training grant, Rachel Almey receives an engraved trophy with another trophy for Vion.


This is the second successive year that Suffolk has provided the winner. In 2011 the winner was James Newman who managed a large duck rearing unit for Green Label Farms near Woodbridge.