Tegel Poultry Looks to the Future Using Ross Brand
NEW ZEALAND - In the October 2012 issue cover story of PoultryUSA, Tegel Poultry of New Zealand was reported as achieving the "world's best feed conversion" and the broilers Tegel's produces are the Ross brand from Aviagen, Inc.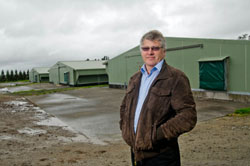 Bill Williams
"At Tegel Poultry we do well in live production, but we could do so much better," proclaims Bill Williams, general manager Agriculture, Tegel Poultry in New Zealand.

This insight comes from an organisation 'averaging a broiler FCR of 1.5 with a range on farms of 1.4 to 1.6 and some sheds as low as 1.38.' The company's goal is to drive FCR down to 1.38. The average processing weight at Tegel Poultry is around 2.3Kg.

Tegel Poultry is an integrated operation and is the leading producer in New Zealand of dressed chicken meat, processing over 40 million broilers annually. The company is a long-term customer of Ross Breeders when it was operating and then Aviagen and has used the Ross brand exclusively since 1974. Tegel's has identified five agricultural pillars to continue focusing on to drive their future success: genetic selection, animal husbandry, feed procurement and manufacturing, disease control, animal husbandry and planning.

Over the last 10 years, Tegel Poultry has improved average feed conversion (FCR) by 1.5 points annually and increased live weights by 50 grams per year. On top of their extraordinary success, they recognize that the next five years genetic potential may in fact be better than the previous 10 years and know they must keep working in the identified areas to secure further progress.

"All the energy and effort applied to improving performance is undertaken once the breed has been chosen and benchmarks are in place to measure progress toward the company goals. Tegel has secured an excellent record of success with the Ross 308 and we are pleased to continue supplying and supporting them as they strive for further improvement," comments Don McLeod, manager, Aviagen New Zealand Ltd.

With the source of breeding stock secure and their ongoing commitment to improve overall performance, Tegel continues to assess ways to progress by modelling and testing FCR enhancement and producing feed with the best texture to optimize intake and improve feed conversion. They recognize that the lack of Infectious Bursal Disease, Newcastle Disease and Avian Influenza gives the best poultry disease status in the world; however, they are still challenged by several nutrition and metabolic diseases and maintain a focused effort on minimizing the impact on productivity.

Tegel is aware of the need to reduce the differences in performance between farms and understanding these differences is an important area of future improvement in their overall success. With this in mind, they have recently moved from an agreement where the grower is paid a fee for every bird processed to being paid on a square meter basis.

"Tegel enjoys a close relationship with the wider Aviagen team who are always keen to receive feedback on field issues, share updates in technical developments and research and work cooperatively to further enhance biological performance potential," added Bill Souther, senior vice president of Asia region at Aviagen.