UK First to Get Aviagen App for Managing Ross Birds
UK - Aviagen has announced the release of its first ever poultry management tool available as an app. Compatible with phones and tablets running Android or Apple operating systems, the new app will in the first instance be available in the UK only and focus on the Ross Performance Objectives. The app can also be downloaded for use on laptops.
Covering the Ross European Performance Objectives for 308, 708 and PM3, the app also has a built-in European Performance Efficiency Factor (EPEF) calculator and a number of other useful tools including a unit convertor which incorporates industry-specific calculations.

Alan Thomson, Regional Commercial and Technical Manager – Europe, said: "This is an exciting development and a first for Aviagen which UK customers will be able to take advantage of in the first instance.

"The app is intended as a quick reference tool for our performance objectives. It won't offer specific advice on how to manage flocks, that isn't the intention, but we recognise that technology is pervasive at all levels of poultry farming now and our customers want to have easy access to our performance objectives. Technology like this is great for managers who need to travel or visit multiple sites. And of course, it is sustainable too."

Mr Thomson added: "This initial release is just the start. We are always looking for new ways to give our customers added-value - from our research and development to our technical support on the ground and this is another example of that 'little extra'.

"We have spoken to a number of customers about the idea before developing it and the response was very positive. We already have plans in the pipeline to enhance the app as time goes on and there will be more functionality added to it. We would encourage feedback from our customers and if there is overwhelming support for the addition of different features we will look at ways to make it happen."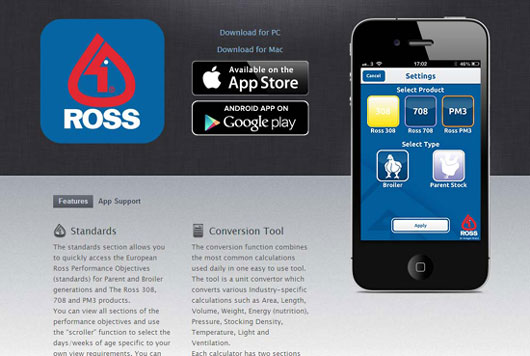 The IOS version will be available to download from the Apple app store, or click here, the Android version can be obtained through Google Play, or click here.You can also download the app and the desktop and Mac versions via www.aviagenapp.com.