Winners in Innovative Workplace Training Partnership
US - Ten Aviagen employees successfully graduated from the Murrumbidgee Rural Studies Centre (MRSC), a campus of Tocal College at Yanco, with a Certificate III in Poultry Production and a Certificate III in Agriculture after completing the inaugural Aviagen Poultry development program.
Aviagen, a leading poultry genetics company who produce breeding stock for the Australian industry approached MRSC as a Registered Training Organisation to partner and develop an in-house workplace training program to address skill shortages they had identified within their production team.

"It was a great day, graduates were excited," exclaimed Tanya Ginns, Education Officer at MRSC, who is an agricultural graduate and trainer/assessor for Certificate III and IV in Agriculture. "You look back at what we've done and it really amazes us, it was a really big team effort."

"We identified some skill shortages in rearing, production and hatchery and also at an overall business level," commented Gary Millar, Operations Manager for Aviagen. "We also identified the training needs by first outlining what the primary business objectives were and then relating this to each operational area. From that we were able to draw up a list of core modules that would enable us to meet the company objectives. Oscar Roche of Visual Workplace Australia, a local business consultancy firm, helped us through this process and also to identify a local registered training organization (RTO). We were determined to ensure multi-disciplinary training was available to give graduates the chance to spend time in other parts of the production team and become aware of internal customer needs as well."

MRSC responded to Aviagen's training requirements and cooperation between the two organizations began with commencement of training in August 2011 and successfully concluded with graduation on 7 November 2012. Funding for the course was provided by NSW State Training Services and shared between Tocal College and Aviagen. Training modules were set up to allow hands on instruction in the various phases of production and Aviagen technical specialists in male management, hatchery, ventilation, technical service, veterinary, export and some outside suppliers like Pfizer Poultry Division assisted in providing expertise for the trainees.

The rigorous process of assessing whether the course and trainees had met required benchmarks to satisfy certification was the responsibility of MRSC and involved Tanya Ginns who led the training effort from MRSC.

"Everyone on the course had their own journey and we had to change tack during the course to sometimes get the motivation back as these people also had the workload of ordinary jobs to contend with. Once they were back on task it was all systems go as the trainees saw the value of the course," added Tanya Ginns.

The benefits have been evident to managers back on the job in Aviagen as the course participants have shown a change in attitude and in the way they have approached their work. They all understand the supply chain within Aviagen Australia better and are also aware of the impact each job has on other internal customers. There have been noticeable improvements in leadership with less reluctance from the graduates to take on responsibility and more confidence in training peers when needed.

"We are really happy with the way the whole course has gone and how the graduates have turned out back at work. We have had tremendous support from subject experts in the delivery of the training modules. These include local suppliers and Aviagen colleagues based in Australia and overseas, including New Zealand, USA and Technical Service Managers from across the Asian region. We owe all module presenters a huge debt of gratitude, their involvement has certainly proved to be an important aspect in helping our team develop and will in many cases offer them the chance to upgrade in the future to roles with more responsibility. We are also pleased and grateful for the expertise offered by MRSC," stated Gary Millar, Aviagen Operations Manager.

The feedback from MRSC has also been very positive. "This is the first time I have engaged with the poultry industry on this level and it really brought home to me the passion that many of these people have for poultry production. A case study is being assembled on the course to ensure we capture our progress and hopefully a review of the recent graduates for their input will become part of that exercise," commented Tanya.

MRSC Project manager Simone Fuller has indicated that they are looking to use the successful experience with Aviagen as a foundation for other possibilities to work with the agricultural sector and become a more integral partner in providing a valuable service to industry. "This is just the beginning, MRSC are currently training a number of Aviagen staff in Certificate IV in Workplace Training and assessment.

The potential for key staff involved in the development program to become qualified trainers and assessors themselves was identified early on – some people are just natural born teachers and we can harness this to build capacity for Aviagen in rolling out the program in future years," commented Simone Fuller.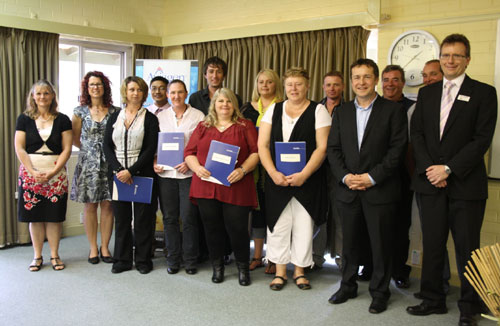 Left to right – Tanya Ginns (MRSC), Simone Fuller (MRSC), Syndie-Jo Calf, Joemel Amados, Joanne Sheather, James Sloan, Donna Chand, Tegan Volleyberg, Gil Wisely, Peter Vaughan, Gary Millar Operations Manager (Aviagen), Mark Young, Mick Hogno and Garry Whittaker (STS)