IPPE: Fred Adams, Jr. Receives Lifetime Achievement Award
US - Fred Adams, Jr. chairman emeritus of Cal-Maine Foods, was honoured by US Poultry & Egg Association during the 2013 International Poultry Expo, part of the International Production &Processing Expo (IPPE).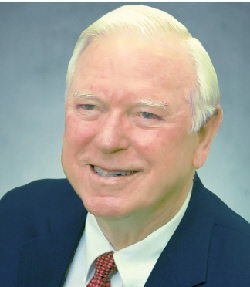 Fred Adams, Jr.
Mr Adams received the Harold E. Ford Lifetime Achievement Award, and accepting the prestigious award in his honour was Dolph Baker, president and chief executive officer for Cal-Maine Foods.

The Harold E. Ford Lifetime Achievement Award is presented to an individual whose dedication and leadership over the years have far exceeded the ordinary and impacted both the poultry industry and US Poultry& Egg Association in an exemplary manner. The award is presented non-annually and when the Awards and Recognition Committee unanimously recognizes and endorses the need for occasional, unique recognition for exceptional contributions.

"Fred is highly regarded and respected within the poultry and egg industry, and his legacy will be acknowledged for many years to come," remarked James Adams of Wenger Feeds in Rheems, Pennsylvania, and newly elected chairman of US Poultry & Egg Association.

An Army veteran and a graduate of the University of Southern Mississippi, Mr Adams was employed with Ralston Purina Company in Feed Sales until 1957 when he left to start his own business involving feed sales and chicken and egg production. In 1969, Mr Adams merged his business with an egg company in California and another in Maine. The new company was named 'Cal-Maine Foods, Inc., a publicly-owned company listed on the NASDAQ Exchange (CALM) and headquartered in Jackson, Mississippi.

Mr Adams served as Cal-Maine Food's Chief Executive Officer from the formation of the company in 1969 until October 2010. He has also served as the chairman of the National Egg Company, United Egg Producers, Mississippi Poultry Association, US Egg Marketers, Inc. and Egg Clearinghouse, Inc.