New Poultry Nutritionist for the Americas
US - Aviagen today announced that Dr Sandro Cerrate has accepted a position with Aviagen as Poultry Nutritionist on 10 December 2012.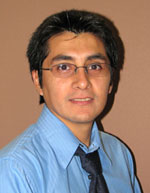 Dr Sandro Cerrate, Aviagen Poultry Nutritionist
Based out of the company's headquarters in Huntsville, Alabama, Dr Cerrate will provide poultry nutrition advice to Aviagen customers in the Americas, as well as the company's US internal production.

In addition, he will participate in the company's poultry nutrition research efforts.

"As a member of the global poultry nutritionist team, Dr Cerrate will continue to ensure Aviagen maintains a leadership position in providing innovative nutrition technical support to internal production operations and clients, and in conducting innovative research to keep our nutrition technical advice current and relevant," said Dr. Bryan Fancher, Group VP Global Technical Operations. "We are pleased to welcome Sandro to the Aviagen family."

Dr Cerrate received his BS in Animal Sciences and MS in Animal Nutrition from the National Agrarian University in Lima, Peru and a PhD in Poultry Nutrition from the University of Arkansas. After receiving his PhD in 2008, he worked as a Research Associate in Poultry Nutrition at the University of Arkansas. Since 2009 he has been the Postdoctoral Research Associate in Poultry Nutrition at the University of Arkansas – working extensively with both broilers and broiler breeders.

For more information about Aviagen or its brands, please click here.