Once Innovations Introduces New Products at IPPE
US - Once Innovations, a global leader in LED Poultry Lighting and LED Technology is introducing several new and updated product lines at IPPE 2013 in Atlanta.
All of the lamps are designed with the company's patent-pending SIAM Technology, which is based upon providing the proper spectrum, irradiance and modulation of light in the poultry environment.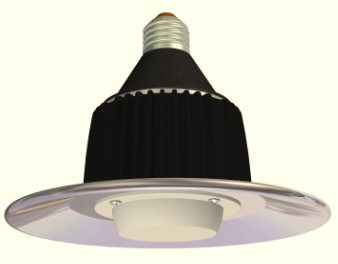 The new AgriShift® ML Modular Lamps have different light output options for the full production cycle of breeders, pullets, broilers, layers and turkeys. Mounting options include an Edison Base (EB), Enclosed Fixture (Jelly Jar, JJ), Junction Box (JB) and a Hard-Wire (HW) mount. All units have replaceable fuses and interchangeable adaptors. The heavy-duty design of the Edison Base unit is rated for Damp Locations, and the JJ, JB, and HW units meet UL Wet Location standards and are rated IP66 when properly installed.

Lamps are available in 120 and 230V designs, and with an energy usage of only 12 watts, provide the equivalent light output of a 100W incandescent lamp.

The AgriShift MLB lamp is a red and blue enhanced full spectrum light designed for broilers. It provides the red spectrum needed during brooding, and dims to a cool white, bluish hue for grow-out operations.

The AgriShift MLL lamps is a red and blue enhanced lamp, designed for laying and breeder hens, and has the ability to dim to all red to simulate sunrise and sunset in order to stimulate feeding and other natural behaviors in laying and breeder hens.

The new AgriShift MLBg Grow-out lamp is a low wattage LED lamp designed to supplement brood lighting, and to provide the best lighting for Grow-out, night-lighting, and catching operations. The cool-white, bluish hue lamps provide light designed to keep the birds calm throughout the day and night. The blue light for catching helps reduce injury and carcass damage by limiting the activity of the birds.

The AgriShift VOBF 230V Variable Output Broiler Fixture is designed to be installed on metal ceilings in broiler barns, and provides the full-range of spectral output for Brood, Grow-Out, and Catch/Moonlighting. It is IP69K rated.

The new AgriShift FL is a 3-watt, 230V Feed Light for designed to attract birds to the control pan and encourage feeding behavior, improving the availability and distribution of feed throughout the barn.

The low-profile AgriShift EL 3-watt lamp is designed to complement the ML lamps in layer housing systems. For use in all systems, they are especially applicable to Colony and Aviary systems where light is needed in and under the housing structure. The EL is also complemented by the AgriShift ELT Tubular Lamps, which can be built with a wide range of lengths, wattage and spectral output to meet the needs of housing equipment manufacturers.

Visit Once at IPPE Booth 131, Hall A. Click on www.onceinnovations.com or send an email [email protected].