PhD Candidate to Unravel Broiler Acute Paralysis Syndrome
AUSTRALIA - Veterinarian Dr Brendan Sharpe is our most recent Poultry CRC supported PhD candidate, having recently commenced at the University of New England (UNE).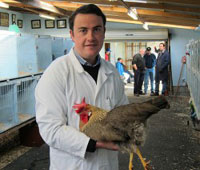 Newest PhD candidate to unravel broiler acute paralysis syndrome
Dr Sharpe's research project, Epidemiological investigation into broiler acute paralysis syndrome, aims to understand the causes of, and to develop a management plan for, a newly observed disease syndrome in broilers. In 2010 this new syndrome occurred on farms in one of Australia's most significant poultry production regions of NSW, with high mortality among affected birds.

This outbreak was characterised by an acute paralysis of chickens during the second half of grow out (days 28-49). The syndrome was associated with very high counts of Marek's disease virus in feather dander, and some of the lesions observed were consistent with this disease. However some aspects of the syndrome were not typical of Marek's disease (MD).

Intriguingly, vaccination against MD did not provide the expected immediate and complete control of the new syndrome. The outbreak occurred in newly imported chicken strains that were not protected by Australian MD vaccines. The initial use of an international vaccine failed. It was only the introduction of the cell-associated Rispens CVI988 and HVT vaccines, coupled with in ovo vaccination of broiler chickens, which brought the outbreak under control.

Dr Sharpe explains, "We are looking at field cases of Marek's Disease that are atypical of this disease. Initially we will try to reproduce 'what's going on' and then attempt to isolate the virus. We need to have an understanding of what factors are correlated with clinical disease, and what pathogen (if any) is implicated. In addition we need to be able to isolate and replicate any implicated pathogen for future (vaccine) development, and we need an effective vaccination regime for interim control of the disease."

Dr Sharpe will conduct isolator experiments at UNE from samples collected from affected farms under the guidance of Professor Steve Walkden-Brown, Dr Katrin Renz, and Dr Margaret Katz of UNE. Epidemiological data and access to clinically affected broilers for examination, post-mortem and sampling will be facilitated by the poultry company involved. Poultry CRC industry partner, Zootechny Pty Ltd will also support Brendan's project.

The key outputs will be a definitive diagnosis, an aetiological understanding of the syndrome, and recommendations with respect to vaccine controls and potential vaccine development.
Further Reading

Find out more information on Marek's disease by clicking here.