Roenigk to Receive Lifetime Achievement Award
US - The National Poultry & Food Distributors Association (NPFDA) will present Bill Roenigk, National Chicken Council's senior vice president, its Poultry Industry Lifetime Achievement Award during the association's awards reception scheduled for 30 January in Atlanta at the Hyatt Regency.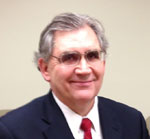 Bill Roenigk, senior vice president, National Chicken Council
"We are very proud of and congratulate Bill Roenigk for being chosen to receive the NPFDA's Lifetime Achievement Award, which is certainly well deserved. Bill has had a long and productive tenure at the National Chicken Council and his knowledge in the areas of international trade, economic analysis, legislative and regulatory issues, and the marketing of chicken is almost encyclopedic. His contribution to the industry and the mission of NCC through his many years of service is immeasurable," said Mike Brown, NCC President.

Mr Roenigk joined the National Chicken Council (then the National Broiler Council) in 1974. His responsibilities at NCC have included, among others, conducting economic and market analyses and presenting industry issues and concerns, both domestic and international, to a variety of government bodies and non-government organizations. He also has overseen projects involving industry and consumer market surveys, as well as working on behalf of the industry on marketing, regulatory, and legislative issues. In 1975, USDA and the Office of the US Trade Representative formed the Agricultural Trade Advisory Committee for animals and animal products. At that time, Roenigk was appointed to the committee, which requires confidential security clearance, and he has been a member ever since.

Before joining NCC, Mr Roenigk was agricultural economist with the federal government's Office of Food/Cost of Living Council; agricultural economist with USDA's Economic Research Service; and agricultural economist with USDA's Foreign Agricultural Service. He holds a Bachelor of Science from Pennsylvania State University and Master of Science from the University of Delaware. Both degress are in agricultural economics. He has also completed course work for a Doctorate degree in Agricultural Economics at the University of Maryland.

NPFDA's Lifetime Achievement Award was initiated in 1991 to honor poultry industry leaders that have played a major role in the growth of the industry. Previous recipients of the award include, among others, Frank Perdue, Perdue Farms; Don Tyson, Tyson Foods; Henry Saglio, Avian Farms; Joe Hatfield, Fieldale Farms; George Watts, National Chicken Council; Eric Joiner, AJC International; and Jim Sumner, USA Poultry & Egg Export Council.