Future Vision Impresses Visitors to Cobb Headquarters
US - An insight into the broiler of the future was provided by Cobb geneticist Dr Danny Lubritz when 17 customers from Brazil, Argentina, Peru, Ecuador, Venezuela, Paraguay, Chile, and Saudi Arabia visited the Cobb-Vantress, Inc headquarters at Siloam Springs, Arkansas, USA.
Dr Lubritz described how the breeding programme is helping to achieve more robust health and the ability to perform well in different environments which, together with continually greater feed efficiency, would characterize the Cobb breed in the future.

Ecuadorian visitor Esteban Chiriboga, of Avesca, commented: "It was really important to see what Cobb is doing with all the genetic improvements and the vision for the future. This gives me confidence to keep working with Cobb."

The group visited the Tyson Discovery Center at the Tyson world headquarters where they toured the research department and met some of the technologists involved in developing new products. They also visited the Tyson Founders Room, a recent addition celebrating the history of Tyson Foods.

The following day, the group visited local industry production facilities including parent stock, hatchery, broiler houses and a processing plant.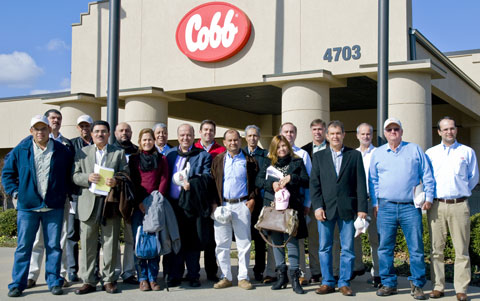 Visitors at the Cobb-Vantress headquarters