New Appointment to Drive Supply Chain Developments for Pas Reform
NETHERLANDS - Pas Reform has set the tone for further expansion and supply chain development with the appointment of Jacques le Comte to the new role of Procurement and Supply Chain Manager.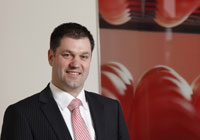 Jacques le Comte
An experienced, international procurement professional, Mr le Comte holds a BEc in Logistics and Economics from HEAO-Arnhem, and has worked in senior purchasing, procurement and supply chain management roles for more than a decade.

In his new role with Pas Reform, Mr le Comte is responsible for strategic procurement and the day-to-day management of an international team.

"The true power of Pas Reform's Supply Chain lies in its flexibility," he says, "and the added value that comes from a coordinated, highly motivated international team on all sides of the supply chain."

Director of Operations Wouter Heideman says Jacques' appointment is central to Pas Reform's strategy for further expansion in new and current markets, as the Dutch company gears up for increasing demands on its supply chain globally.

"Pas Reform achieved its highest ever supply of units in a single month last year," he says, "which really tested – and proved - communications, flexibility and dependability within our supply chain."

With Value Engineering at the core of its strategy in 2013, Pas Reform will also introduce a new barcode system and an international code of practice this year.

"Jacques' role is to coordinate, manage and optimize contributions to these goals from the entire supply chain. His substantial OEM experience and collaborative, highly motivational approach will be important drivers for maintaining this robust performance with increased demand."

Mr le Comte will be based at Pas Reform headquarters in Zeddam, The Netherlands.