Ceva Shares Global Field Experiences at New Technology Vaccine Symposium
US - The latest in a series of expert symposia, the New Technology Vaccine Symposium took place in the United States from 9-11 April 2013. Ceva believes that the sharing of field experiences between poultry experts is vital to achieving the full benefits that can be gained from the introduction of new technologies.
In 2011, Ceva organised its first scientific symposium to introduce 'the science behind the innovation' and the level of participation in this event showed the real shift towards the adoption of new technology vaccine strategies.
Commenting on this shift, Dr Sylvain Comte, Global Marketing Director – Poultry said: "The number of day-old chick broilers vaccinated in hatchery with new technology vaccines has dramatically increased in the past five years. Today, almost half of the broilers produced in the world each year are vaccinated in the hatchery, with these new technology products against Gumboro, Newcastle or laryngotracheitis. We expect and will encourage this figure to grow to 70 to 75 per cent by 2015."
Ceva is the leading company in vector and immune complex vaccine technology for broiler poultry production. In 2012, 23 per cent of worldwide broilers were vaccinated with Ceva new technology vaccines, a figure expected to grow above 25 per cent in 2013.
During the three-day symposium, more than 200 poultry professionals from all over the world and different roles and responsibilities (poultry production, poultry health, regulatory authorities, leading research institutes and universities) had the opportunity to share the latest scientific knowledge and field practice using new technology vaccines vector vaccines and immune complex to improve poultry production.
The introduction of new technology vaccines is one further way that Ceva hopes to go 'beyond animal health' through helping poultry production to become more efficient and sustainable.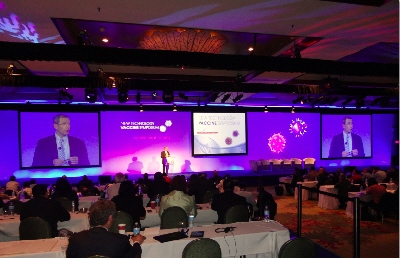 Dr Sylvain Comte addressing the symposium in Miami