Worldwide Partnership in Action at Merial Avian Forum
TURKEY - Merial Animal Health brought to life its pledge to work in partnership with the global avian industry in its recent Avian Forum in Istanbul.
The event was attended by 500 delegates from 73 countries who took part in sessions on 'Future Challenges of the Poultry Industry'.
The conference sessions also reflected the key components of the 'Merial Gear Partnership', which was launched at the forum, and concentrated on 'Immune Foundation and Early Protection in Chickens', 'Maximising Genetic Potential', and 'Performance Achievement and Food Safety'.
Jérôme Baudon, Head of Global Strategic Marketing Avian for Merial said: "Merial has a strong product range and continues to develop products to help meet the future challenges in markets across the world, but just having the right products is not enough. We are providing a greater service element to what we do including the provision of new equipment to help increase efficiency and productivity for our customers.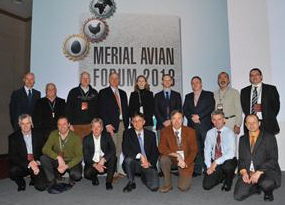 "Partnership is at the heart of what we are doing - working with our customers, vets, and others in the industry to help meet the challenges of increased demand for broilers and layers across the world. The Merial Avian Forum is just one part of our strategy to invest in the industry as whole. It has been a tremendous opportunity to meet people from all over the world, and hear about their experiences, as well as to share the expertise of a wide range of authoritative speakers."
In its three sessions the Forum explored many aspects of production and health, as well as touching on aspects of the supply chain that are critical for producers to understand. Leading experts talked about the foundations of immunity and how vaccine works, as well as exploring the efficacy of particular vaccines and vaccinations programmes.
There were also presentations on some of the key threats such as Avian Influenza, Newcastle Disease, Gumboro disease, Infectious Bronchitis, Salmonella and Campylobacter, and representatives from all the major global genetics companies talked on the subject of 'Correlation of Immune Foundation and Health Status with genetic expression'. Speakers from the processing and retail ends of the supply chain described the challenges of production and meeting the demands of today's sophisticated consumers.
Further Reading
Find out more information on the diseases mentioned here by clicking here.