Hy-Line Established for Future in Indian Market
INDIA - In a strong commitment to ensure long-term success in the world's third largest egg market, Hy-Line International is investing in a wholly-owned subsidiary, Hy-Line Layers Pvt. Ltd., to serve the Indian market.
With a 45 per cent global market share, the world's largest layer genetics company, Hy-Line International, seeks to achieve strong participation to supply the anticipated continued growth of the Indian egg industry. Working in close cooperation with sister company, Aviagen, the new company is based in Tamil Nadu.
The first grandparent flock of the world's leading white egg layer, Hy-Line W-36, is already on the ground since April and will be in full production to supply Parent Stock to current and future distribution customers in January 2014. The W-36 is widely recognized as the most efficient layer available due to its superior feed efficiency and livability. Also, superior egg quality has long been recognized by producers in the Americas where the bird has leading market shares in the US, Mexico, Brasil and Argentina. Excellent results from the W-36 have been noted in India as well by producers familiar with the layer.
"There is already strong interest in the W-36 Parent Stock, long before the birds will actually be available to produce commercial layer chicks for the market" reports Andrew Jackson, director of the new Indian company. "We are pleased to be creating strong working relationships with producer partners across India who will be developing commercial W-36 production for themselves and for direct sales to local farmers. The confidence shown by these partners in the Hy-Line genetic programme is a clear demonstration of their commitment to improving the efficiency of their production".
In order to ensure the success of the W-36, the respected Indian veterinarian Dr B. Ramakrishna has been appointed Technical and Marketing Manager.
Mr Jackson added: "His vast experience in managing Hy-Line layers in India will be extremely important in helping customers obtain the best results possible from the bird."
Hy-Line International's Global Technical Service Director, D. Doug Grieve, has spent extended time in India helping the new company off to a successful start. In addition, Dr Ramakrishna will spend time in the US receiving additional insights into how the W-36 is managed in the Americas.
Miguel Paula, Regional Business Manager of Hy-Line, has been interviewing potential Parent Stock distributors in India. A careful analysis of potential associates will be done to ensure Hy-Line's standards are followed to guarantee high quality commercial layer chicks are made available to all important geographies in the market. That process continues and future announcements will be made concerning distribution when arrangements have been solidified.
An extensive update is being made on both quarantine and production farms to house the Grandparent Stocks. Strict biosecurity features and processes have been implemented. The flocks will be housed in modern facilities with tunnel ventilation and controlled lighting to ensure optimum production is achieved. Continued visits have been made by Hy-Line International experts from Europe and the US to work with their Indian colleagues in fitting the facilities and ensuring a good start of the first Grandparent flock.
Each new generation of Grandparents arriving in India will contain the latest genetic improvements and consequently improve subsequent layer generation's performance. Hy-Line International is investing to be a serious player in the market and help Indian farmers produce eggs with world-class efficiency.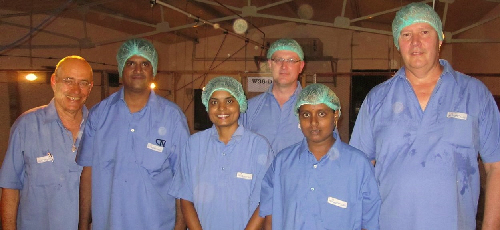 pictured from left to right: Miguel Paula (Regional Business Manager from Portugal), Dr B. Ramakrishna from India, Kavi from India, Andrew Jackson (Director Hy-Line Layers Pvt. Ltd. from England), Selvi from India and Dr Doug Grieve (Global Technical Services Director from the US)