Ross 400 Club Celebrates Record EPEF Score
UK - Since its inception in 2009, Aviagen has seen its Ross 400 Club grow in number across the UK with new members joining as well as existing farmers repeating earlier success.
The Ross® 400 Club, set up to recognise farmers who achieve exceptional broiler performance, now has 15 farmers who have reached a European Production Efficiency Factor (EPEF) of 400 or more with their Ross flocks.
Jonathan Waring, who achieved 413 in 2011, has now surpassed his own record by gaining the highest EPEF of the 400 Club to date, by recording 433. He said: "I am delighted to have achieved such a high EPEF. I'm sure it won't be the highest total for long, as standards continue to improve with such dedicated and talented farmers out there.
"It's great to see the Ross 400 Club growing in popularity and I am sure there will be even more members and 400s reached in the near future."
Toni Fuller, a new member, commented: "It is very pleasing to see the hard work that is put in be rewarded through the Ross 400 Club. It's a great initiative and I look forward to achieving more 400s in the future."
Glenn Bushell, UK Technical Service Manager, said: "It is a great achievement to have three farmers surpass 400 EPEF already in 2013, when you consider we had a total of four for the whole of last year. With plenty of the year left to go we'd love to see some more farmers added to the list!
"In all seriousness, it is no easy feat and there is no set-formula for success. Achieving an EPEF of 400 is something to be celebrated and the results we're seeing are well surpassing this mark now. It is testament to the hard work and dedication of the farmers involved."
All club members receive an award, certificate, annual newsletter, branded merchandise and have their name added to a role of honour on the Aviagen website. Any UK broiler farmer who reaches an EPEF of 400 or more with their Ross flock is eligible for membership of the Club.
However, it is not just in the UK that the Ross 400 Club is growing in reputation. A recent Ross 400 Club winner, David Speller, travelled to the Czech Republic earlier this month to give a talk to Aviagen customers in Eastern Europe.
David spoke to the attendees at the broiler seminar with the focus on the excellent performance of the Ross broiler but also on sharing information and advice on how to achieve the magical 400 EPEF.
In addition, Denmark is currently in the process of establishing its own Ross 400 Club. Farmers in Denmark are being encouraged to follow the lead set by the UK and attempt to achieve the 400 mark and join the prestigious group.
For details on how to register for the Ross 400 Club, please contact your local Aviagen representative or our UK office on 0131 333 1056 or email [email protected].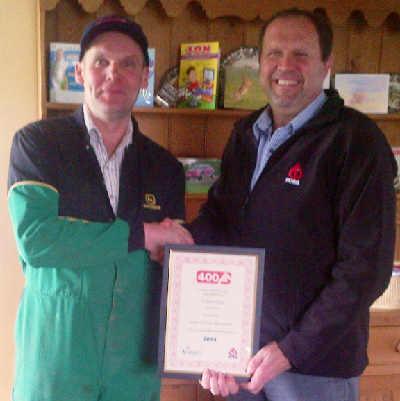 Jonathan Waring receiving his latest award