Expansion Leads to Success in Argentina
ARGENTINA - Hy-Line International welcomed Dr Raul Buthay from Argentina earlier this month for a four-day visit to its headquarters in Des Moines. He is the General Manager of Production for Avicola Feller, Hy-Line's Argentine distributor for over 15 years.
Avicola Feller specializes in two different layer varieties: Hy-Line Brown and the Hy-Line W-36. Dependent upon region and traditions, certain egg colors are consumed in different parts of the country. According to Dr Buthay, "In Argentina, the white egg accounts for 60 per cent of egg consumption. The remaining 40 per cent of the population consumes brown eggs, mainly in the west and southern part of the country, close to the Andes".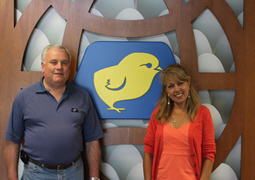 Pictured in West Des Moines, Iowa at the Hy-Line International Headquarters: Avicola Feller's Dr Raul Buthay and Hy-Line's Ivy Clawson.
In September, Dr Buthay will be celebrating 26 years of employment with Avicola Feller. Dr Buthay grew up 400 kilometres north of Buenos Aires. His family raised poultry, and his own father was a customer. After graduation, he spent his first 10 years working as a veterinarian at Avicola Feller. In 1997, Dr. Buthay took the position of General Manager of Production.
During that time, he has witnessed substantial growth in the poultry industry, especially within the last ten years. In an effort to accommodate the demand for larger quantities of birds, Avicola Feller has invested in a program called COBISE, a five-year expansion project. The construction began in 2010 with all new parent stock breeder houses being built that included state of the art technologies and the latest in biosecurity.
The next phase includes the expansion of their hatchery capacities at the new facilities. Dr Buthay believes the expansion investment will be the formula for maintaining Avicola Feller's position as the leading layer chick supplier in Argentina.