Harvest Broilers Without Catching
NETHERLANDS - Since the introduction of its BroMaxx broiler colony system, it is no longer necessary to catch the birds during harvesting, according to Jansen Poultry Equipment.
The manure belt that runs underneath the FlexFloor® and the FlexFloor itself become very handy tools during the unloading of the broilers. The FlexFloor can be pulled out of the system with the result that broilers end up on the underneath manure belt and can be transported to the end of a BroMaxx row. From this location there are different solutions to transport broilers into containers or crates.
EasyLoader®: retain meat quality and harvest fast and efficient reaching up to 12,000 broilers per hour and even more!
During the harvesting, it is very important to retain the quality of the broilers that is achieved by the BroMaxx® colony system. This is why Jansen Poultry Equipment developed the EasyLoader harvesting system that transports broilers in a straight line into containers, avoiding any bends or transfers. The risks of broken wings, legs and bruising are minimised, which improves the meat quality of the broilers.
Besides this, the EasyLoader harvests broilers fully automatically, which means that employees only have to make sure that the containers are situated in the right position so that they can be automatically filled with broilers.
This highly efficient harvesting system harvests up to 12,000 broilers per hour and even more. The EasyLoader can be transported to other houses, which makes the return on investment even higher.
For more information about the BroMaxx broiler colony systems and all it has to offer, please visit www.bromaxx.com or email [email protected].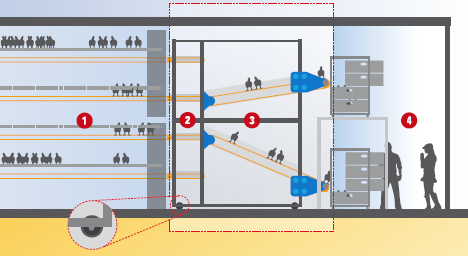 Easyloader: friendly and efficient broiler loading